September 25, 2014 | Culture and Art, Movies, Restaurants, Travel | Irene Ojdana
Jiro Dreams of Sushi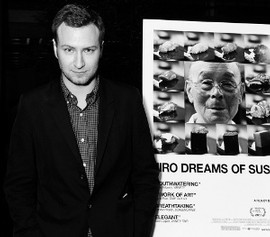 David Gelb, the director of the super successful documentary Jiro Dreams of Sushi (for which Ed was an Executive Producer), just sold a docu-series about other famous chefs to Netflix. Jiro, about an 85-year-old sushi chef, whose three-Michelin-starred restaurant in a Tokyo subway, was 30-year-old Gelb's first feature. The terrific film was about Jiro's striving for perfection and about his 50-year-old sushi chef son wondering when his father would retire so he could take over the restaurant. (The younger son, knowing he would never take over, opens his own sushi restaurant in another part of Tokyo.) It was also the restaurant to which Prime Minister Abe of Japan took President Obama right off of Airforce One upon Obama's arrival in Japan.
Ed and I are looking forward to seeing Gelb's other documentaries about talented chefs and their stories creating mouth-watering food in exotic locations. Bon appetit!
Comments
Commenting has been turned off.