From Hollywood to Vine with Vineyard {511}
Adventures in Wine, Food, Film and Travel
---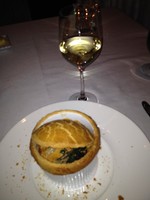 It's been a year since Ed and I dined at a Michael Mina restaurant in Las Vegas and we just had to return for his signature dish-- lobster pot pie. Last March we ate at Michael Mina's Nob Hill Tavern, which has since closed there, and, this March,we ate at his Michael Mina restaurant, named for himself. We had the tasting menu with wine pairing, and we weren't disappointed, especially with the lobster pot pie. (See photo.) My mouth is watering just thinking about it.
The restaurant is located in the Conservatory of the Bellagio, which is filled with a profusion of colorful flowers formed into fanciful shapes, such as hugh tulips. Immense Dale Chihuly colorful glass chandaliers grace the ceiling of the Bellagio's lobby. They are incredibly beautiful.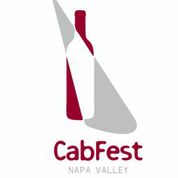 The first annual CabFest Napa Valley was held February 28- March 2, at the Napa Valley Performing Arts Center, at Lincoln Theater, in Yountville, and was a great success. Two thousand people attended. To start it off with a bang was actor, singer, songwriter Jeff Bridges and his band, the Abiders. He performed a blend of country, rock and blues and songs from the film "Crazy Heart," as well as from his albums, shaped in partnership with his producer and friend T Bone Burnett. Opening the show for her father was the very talented singer/songwriter Jessie Bridges. They both sang together at the fun after-party, Cigars and Guitars, hosted by "Cigar Aficionado Magazine," Gibson Guitars and Napa Valley Museum.
The next two days featured Grand Tastings of Cabernet Sauvigon poured by a terrific group of Napa Valley wineries--50 each day--such as Cakebread Cellars, Cade, Silverado Vineyards, Trefethen, Hess Collection, Reynolds Family, Eagle Eye, Pride, Caymus Vineyards, and Vineyard 511. Everyone came by to tell us that our Vineyard 511 2009 was the best there! We agree!
Local restauranteur Cindy Pawlcyn provided delicious cheese, nuts, olive tapenade and fruit to pair perfectly with all the delicious Cab. Additionally, there were interesting seminars on the main stage, such as the keynote presentation by Karen MacNeil, "What Makes Great Cabernet Sauvignon Great," and musical pairings presented by the Orchestra Institute Napa Valley, since both wine and music have a mysterious quality that does not lend itself to easy description in words.
Saturday night The Silverado Pickups, a rock band comprised of some of Napa Valley's most respected vintners and wine professionals provided a rockin' concert. Members of the band include David Duncan of Silver Oak and Twomey Cellars, Jeff Gargiulo of Gargiulo Vineyards, Shane Soldinger with Crocker & Starr, professional percussionist Joe Shotwell, Dan Zepponi of Valley of the Moon, winemaker Tres Goettings of Robert Biale Vineyards, and wine-country "C.P.A.. to the stars," Paul Hoffman.
We are really looking forward to next year's event! In the meantime, enjoy our 2014 Napa Valley CabFest Photo Album.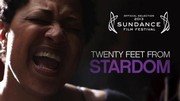 On March 2, the film Twenty Feet From Stardom, which the Napa Valley Film Festival screened in 2013, took home the Academy Award for the best 2013 documentary feature. The film, directed by Emmy award-winning Morgan Neville, tells the untold story of backup singers who have been behind some of the greatest musical legends of our time, such as Elton John, The Rolling Stones, Tina Turner, Sting, Beyonce, Alicia Keyes and Aretha Franklin. The film highlights the careers of backup singers Lisa Fischer, Darlene Love, Judith Hill, and Merry Clayton among others, who, like Darlene Love, either got beat up by an abusive music industry, or who, like Lisa Fischer, made a concerted decision not to seek stardom.
Immediately following the 2013 Napa Film Festival screening, we were lucky to have director Neville and Lisa Fischer for a Q&A session and then hear talented Ms. Fischer deliver a stunning impromptu a cappella performance. Check it out here. We also got to meet the delightful Lisa backstage. Actually, the nights right before and right after the screening, she was backing up the Rolling Stones, who were touring California.