From Hollywood to Vine with Vineyard {511}
Adventures in Wine, Food, Film and Travel
---
Boots Brounstein passed away on July 31, 2019, at the age of 92. In the San Francisco Chronical, wine-writer Esther Mobley wrote, "With her husband Al, Brounstein co-founded Diamond Creek Vineyards, which became a pioneer in establishing Napa Valley's hillsides as prime territory for Cabernet Sauvignon. Arguably, the Brounsteins contributed more than any other vintners of their era to the idea of single-vineyard, terrior-driven wines."
But to me, Boots was more than a vintner, she was a wonderful friend. I met her at a holiday party on Diamond Mountain, and we shared casual dinners together after that. Boots was such a generous person, inviting my family to the picnics she held around the lake at Diamond Creek. She was a special person who had the ability to make me, as well as everyone else who had contact with her, feel special too.
On September 17, I attended a memorial service for her at The Culinary Institute of America at Copia, in the City of Napa. She filled up a large auditoriam with many friends and family, who wanted to remember and pay tribute to her. The most moving speakers were her six grandchildren, who all spoke about the unconditional love and guidance and support Boots gave them and about how they will miss her. There wasn't a dry eye among us.
Afterward, Phil and Chuck Ross, Boots' sons, and her daughter-in-law Susan, made a toast, L'Chaim, to life, in her honor, as we all raised a glass of 2016 Diamond Creek Vineyards Cabernet Sauvignon.

Here is a beautiful photo of Boots as it appears on the booklet given to us at the service.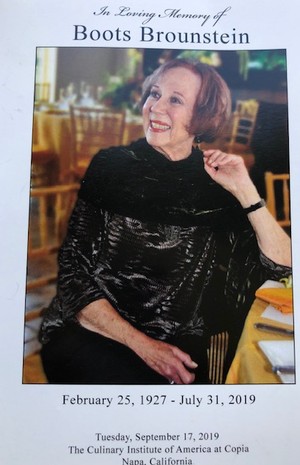 I'll miss her.