From Hollywood to Vine with Vineyard {511}
Adventures in Wine, Food, Film and Travel
---

As a tribute to the Beatles and in honor of their first performance at the Hollywood Bowl August 23, 1964 (back when tickets for seats were $3-$7), the Hollywood Bowl put on 3 concerts of the same songs the Beatles sang that night 50 years ago. Luckily, Ed and I have season tickets to the Bowl, and I was able to see one of these new performances on August 22, 2014.
Bob Eubanks, host of the TV show "The Newlywed Game," was a popular DJ in L.A. back in 1964, at the time of the Beatles sold-out tour of the U.S., explained to the audience how he had put up his house to get $25,000 to book and produce the original performance at the Bowl. He read a telegram from Sir Paul McCartney, who was sorry not to be with them on stage. Then Dave Stewart, co-founder of the Eurythmics and his band, led the rest of the show, with songs performed by son Sam Stewart on the guitar, and son Django Stewart and daughter Kaya Stewart, who sang with their father.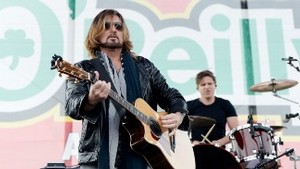 Guest stars Bill Ray Cyrus performed "It's A Hard Day's Night" and "Hey Jude," while the audience waved illuminated cellphones, and Australian Vanessa Amorosi rocked "Rollover Beethoven," "Get Back," and "Let It Be."
The night ended with "All You Need Is Love," with everyone swaying, dancing and singing along.
Photo: Kevork Djansezian/Getty Images

Ed and I attended the 16th annual V Foundation Wine Celebration August 7-9. Throughout the weekend, we enjoyed ultra-premium wines, exclusive wineries, gourmet meals created by award-winning chefs, live and silent auctions, and great live entertainment, all to raise critical research funds to find a cure for cancer. And these weekend events raised a whopping 9.3 million dollars!
The V Foundation was started in 1993 by ESPN and the late legendary coach of the North Carolina State basketball team Jim Valvano ("Jimmy V"). Valvano, who before he succombed to metastatic adenocarcinoma, a form of cancer, challenged everyone to never give up in finding a cure for cancer. Since then, the Foundation has raised over $100 million.
Kicking off the weekend, we shared an intimate dinner at Vineyard 7&8 on the top of Spring Mountain, hosted by Launny and Weezie Steffens, their son Drew and his wife Missy. Then, the following night--Friday-- Ed and I poured our 2010 Diamond Mountain District Cabernet Sauvignon at the Let's Get It Started party held at Vintage Estates in Yountville. There, Napa restauranteurs and vintners (such as ourselves) provided food and wine and a custom barrel auction, while the band Grooveline provided some very lively music for dancing.
On Saturday morning, cancer researchers from leading research centers discussed the latest advances in cancer diagnosis and treatment--so enlightening.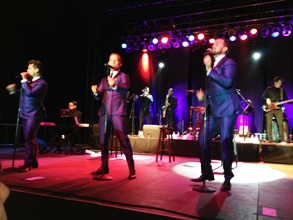 Topping this all off on Saturday night, we attended a fabulous gala at the Nichol and Nichol winery in Oakville, hosted by Scott Hamilton, Olympic Gold Medalist, World Figure Skating Champion and US Olympic Hall of Famer. Hamilton related how he was not only a testicular cancer survivor, but is now also finally recovered from a twice-diagnosed brain tumor. What valor! After a delicious dinner, live and silent auctions, at which Ed and I scored a week in Tuscany, we were treated to incredible entertainment by the Midtown Men of the original Broadway cast of the Jersey Boys, who really got the place rockin'! The night before we had poured our wine for the lead singer Christian at the Let's Get it Started party, so we felt like he was singing just for us.