From Hollywood to Vine with Vineyard {511}
Adventures in Wine, Food, Film and Travel
---

Meadowood Napa Valley, the premiere hotel and country club, hosted its members at its annual tent raising party in honor of Auction Napa Valley. Because Meadowood closes access to its golf course and tennis courts and restaurants during Auction Napa Valley, which officially starts the next day, Meadowood provides a lovely evening of live music and hors d'oeuvres and wine on its expansive lawn.

At another event associated with Auction Napa Valley, Ed and I watched the sun set over Napa Valley's Diamond Mountain with incredible views from Viader's tasting room patio 1300 feet on the eastern slopes of Howell Mountain. Soon afterward, we were treated to an elegant and entertaining dinner event of great wines from proprietor Delia Viader's cellar (Viader is recognized around the world for consistently producing high quality, very limited production red wines and red Bordeaux-style blends) and delicious Argentine-sttyle food prepared by her daughter-in-law Mariela Viader. My favorite wine was 1997 Cabernet Franc and favorite dish the mouth-watering Argentian style beef.
Delia Viader was born in Argentina, and the theme of the evening was the intimate setting of a nightclub, such as one found in the Boca neighborhood of Buenos Aires, where we were entranced by live sultry tango dance performances. Ole!

This past week, the Napa Valley Vintners' Association Auction Napa Valley raised a record $16.9 million for health care and youth education in Napa Valley. It broke its previous record of $10.5 million in 2005. In its 33rd year, the Auction provides for direct medical, dental and education services, lending support to families at risk, reaching the most vulnerable and extending a safety net to those in poverty.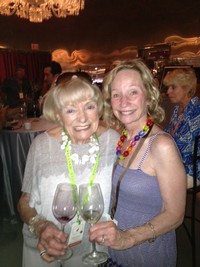 The top live auction lot netted $3.7 million for Fund-a-need; the top barrel lot, each of which is 10 cases of wine, was Shafer Vineyards at $78,000; the top e-auction lot was for Sherwin Family Vineyards at $15,200.
The barrel auction was held in the afternoon at the lovely Raymond Vineyards, where an overwhelming number of local chefs and vintners provided yummy food and white, rose and sparkling wine outside in 5 large tents; while inside the cave, vintners poured their barrel samples. After schmoozing with Magrit Mondavi and owner Jean-claude Boisset, we ended up bidding on a case of Jean-Claude's 2010 Raymond cabernet--and won it!!!
Outside we ogled a 2006 Astin Martin convertible and chatted with Launny Steffens, proprietor of Vineyard 7 & 8, who was donating the (James Bond '007) thunderbolt on wheels to be auctioned off. How could he give it up??? Although Ed has the '06 sedan, I would have liked this one for myself. Oh well..............