From Hollywood to Vine with Vineyard {511}
Adventures in Wine, Food, Film and Travel
---

Bottle Rock Napa Valley and the Napa Valley Film festival teamed up to present two music documentaries: Sound City, at the Uptown Theater, on May 6, and Twenty Feet From Stardom, at 500 First Street (the former Copia facility), on May 7.
Sound City, directed by Nirvana/Foo Fighters musician Dave Grohl, was about the history of the legendary recording studio hidden away in Van Nuys, in the San Fernando Valley, near Los Angeles. Sound City Sudios was the birthplace of many of the greatest recordings in rock and roll history, and the film showcases Mick Fleetwood, Stevie Nicks, Tom Petty and Rick Springfield, among others, and shows how Grohl brings the Studio back to life in the digital age.
Hors d'ovres by Bouchon and wines by Miner were terrrific!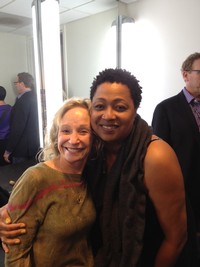 Twenty Feet From Stardom, directed by Morgan Neville, my personal favorite, was first screened at Sundance, where it received standing ovations, and was presented here as a special sneak preview before it opens theatrically in June. The film follows several diverse and gifted backup singers who, although immensely talented, perform in the shadows of star singers, such as Michael Jackson, Patti Austin, Pattie LaBelle, Stevie Wonder, Ray Charles and the Rolling Stones. We learn their names; Darlene Love, Merry Clayton, Lisa Fischer, Tata Vega and Judith Hill, who have sacrificed their egos to be a part of something bigger than themselves, backing up the star.
At the conclusion of the screening, Director Neville and Lisa Fisher answered questions from the audience, and then Lisa sang to an enrapt audience. Ed and I were lucky enough to meet Lisa personally backstage. What a lovely and gentle soul she is.