March 1, 2015 |
Irene Ojdana
On the afternoon before the Academy Award show, Ed and I were lucky to be invited to the Film Independent Spirit Award luncheon ceremony in a tent, at Santa Monica Beach. It was a beautiful, Southern California afternoon at the water's edge, where we enjoyed cocktails and hors d'oeuvres before the luncheon with movie stars like Adrian Brody and J.K. Simmons.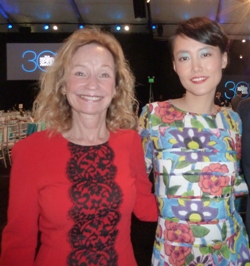 We then joined our table hosted by Amplify Digital Distribution Company, on whose board of directors Ed sits and of which he is a major investor. At our table was Kevin Iwashina, also of Amplify and agent of Preferred Content; Rinco Kikuchi, nominated for Best Female Lead for her role in Kumiko, The Treasure Hunter (an Amplify film); and Sara Colangelo, nominated for Best First Screenplay for Little Accidents (another Amplify film).
Over the last 30 years, the Spirit Awards has been the premiere event honoring the achievements of independent filmmakers. Many of the films, directors, and actors that were nominated for Spirit Awards were the same ones that were nominated for Oscars the next evening, such as Patricia Arquette and Julianne Moore, Spirit Award winners for Best Female Lead and Supporting Female.
It was a lively ceremony, hosted by Fred Armisen (Portlandia and Saturday Night Live) and Kristen Bell (House of Lies and Veronica Bell). And the food was yummy too. Congratulations to the winners! Here are some of them:
BEST FEATURE: Birdman or (The Unexpected Virtue of Ignorance), Producers: Alejandro G. Inarritu, John Lester, Arnon Milchan, James W. Skotchdopole
BEST DIRECTOR: Richard Linklater, Boyhood
BEST SCREENPLAY: Dan Gilroy, Nightcrawler
BEST FIRST SCREENPLAY: Justin Simiern, Dear White People
BEST FEMALE LEAD: Julianne Moore, Alice
BEST MALE LEAD: Michael Keaton, Birdman or (The unexpected Virtue of Ignorance)
BEST SUPPORTING FEMALE: Patricia Arquette, Boyhood
BEST SUPPORTING MALE: J.K. Simmons, Whiplash
BEST DOCUMENTARY: CITIZENFOUR, Director/Producer: Laura Poitras, Producers: Mathilde Bonnefoy, Dirk Wilutzky
BEST INTERNATIONAL FILM: Ida (Poland), Director: Pawel Pawlikowski