From Hollywood to Vine with Vineyard {511}
Adventures in Wine, Food, Film and Travel
---
Earlier this week, Ed and I attended a Napa Valley Vintners Association Celebration of the 2018 Vintage. Held at the To Kalon Cellar at Robert Mondavi Winery, the event was held in lieu of a holiday party to celebrate Napa Valley's excellence in winemaking. When we arrived, we saw a large sign over a long table that said Juice Bar, which we thought was highly unusual for a Winemakers Tasting. However, what we found there were sample wines from 2018 straight from the barrel.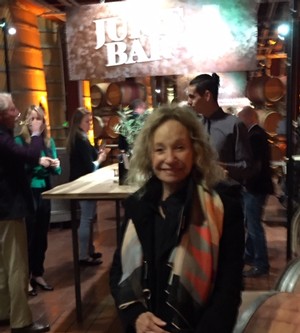 When we wandered beyond the Juice Bar, we found a winetasting of the vintners' most inspiring vintages.
Following the winetasting, we broke bread at a delicious family style lunch, where we shared harvest stories and raised glasses (more winetasting!) to celebrate the 2018 wines now in the cellar. And what a terrific and plentiful vintage it was.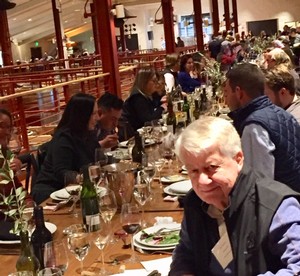 We'll all be taking a short and well-earned breather, enjoying the holidays, before getting ready for 2019. Happy holidays!
At the end of October, Ed and I took the first of three wine cruises we have planned. The first was on the Sea Dream Yacht Club in Spain, and the next two will be in Portugal, in April, and Bordeaux, in August, about which I promise to blog.
We picked up the first in wonderful Barcelona, where we got to check out the famous and fanciful Gaudi Cathedral--Sagrada Familia--to see its progress in completion. It's still under construction after 137 years-only 70% finished.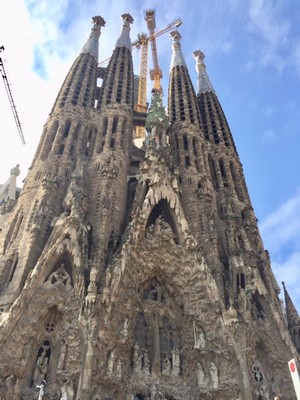 On our one evening in Barcelona before picking up the cruise the next day, we got to drink some lovely Priorat wine from a mountainous area southwest of Barcelona, which Ed and I had previously visited. Since our last visit, the wines of Priorat have become more well-known and more expensive. Priorat is a Catalan wine-producing region, that was totally abandoned until the early 1900's. It has gone through a renaissance, producing wines with a nose of red and black plum, black cherry and cassis, and with accents of bold fruit flavors.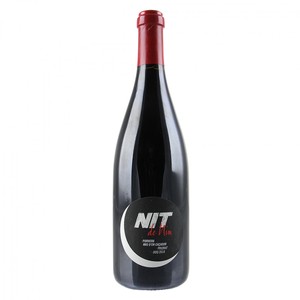 The next day, from the port in Barcelona, we boarded the Sea Dream Yacht Club--a small ship of under 100 guests.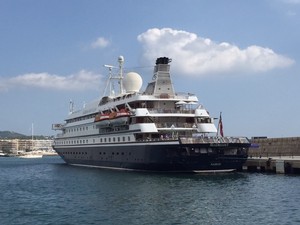 There were only 81 guests for this sailing--an intimate setting--where we all could get to know one another. In fact, can you believe we discovered there were two other Napa Valley vintner couples on the ship from Calistoga: Saddleback's winemaker Nils Venge, there on his honeymoon, and Seth Gersch and Alisa Gean, MD., proprietors of Hindsight Vineyards! We got to know them all and shared a fun wine dinner, where we all contributed our wines.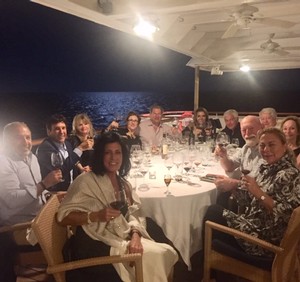 On the ship we experienced tastings of Torello Cava. Torellos have an impressive history dating back to the 1300's and, today, they are famous for producing some of the best Spanish "champagnes." We also had a tasting on board of Bodegas Rey Fernando De Castiilla sherry. The varietal is often misunderstood, something that is thought of as sweet and only drunk by old ladies. In the tasting we learned how sherry can be paired with most food.
The winery we most enjoyed on land was in Ronda--Descalzos Viejos (the aged barefoot monks),--which was founded in 2000 and specially restored for winemaking. It is situated in the chapel of a sixteenth-century monestary.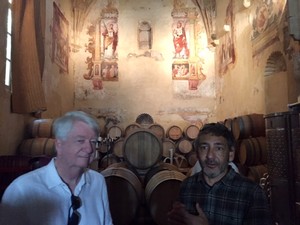 Perched on the higher slopes of the Tajo of Ronda gorge, they make wine from about 2.5 acres of vineyards on the property. Its wines were very enjoyable, and we brought some back to Diamond Mountain to enjoy again.
At the end of the cruise, which disembarked in Malaga on the Costa del Sol, Spain's west coast, Ed and I decided to extend our stay and fly on to Marrakech, Morocco, which is considered to be a happening place. It is in the spotlight now, thanks to the new Musee Yves Saint Laurent and Marjorelle Garden, owned by Saint Laurent's estate. Purchased from the painter Jacques Marjorelle, the garden is adorned with Majorelle blue, the color named for him.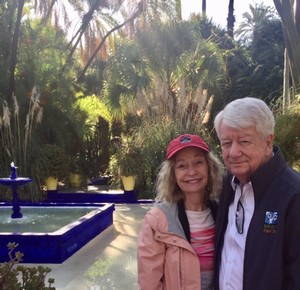 Marrakech is an exotic place to explore, especially its medina and souks, a labyrinth of markets with an incredible profusion of local crafts, foods, spices, and snake charmers. I didn't get too close to the snakes, but enjoyed watching craftsmen creating their wares and men selling delicious dried fruits.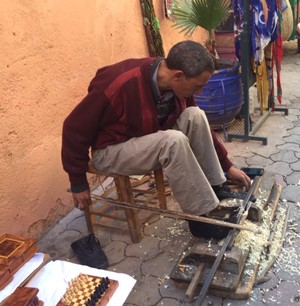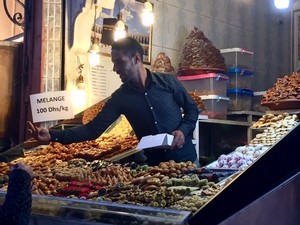 We also discovered some of the best wines of Morroco during a wine tasting at our hotel La Mamounia. (Who knew that Morocco even made wine?) The tasting took place in an exotic, animal-skinned-decorated bar called Churchill's, which hasn't been changed or renovated since Churchill drank there in the mid-20th Century. The wines were displayed on an old maroon-colored piano.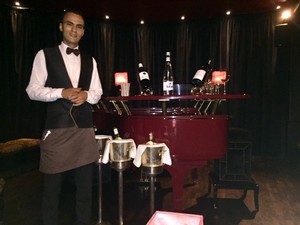 Some of the wines we enjoyed were the grand cru Les Coteaux de L'Atlas; d'Argan from Perle Grise de Mogador, from Domaine du Val d'Argan; and the 2016 Icone from Cuvee la Mamounia (our hotel's own).
We ended our trip to Morocco with a stay at Kasbah Tamadot, Richard Branson's retreat in the High Atlas Mountains. Kasbah Tamadot employs local Berber staff from the surrounding villages, giving guests a sense of staying in a Moroccan home rather than a hotel. We had a terrific hike through Berber villages with a Berber guide, where we stopped for mint tea, not wine.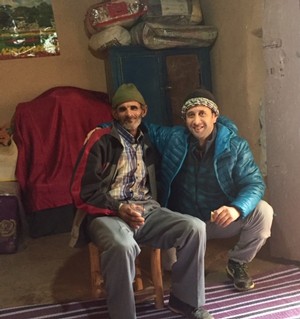 However, we will be reporting back to you about our next two wine cruises in Portugal's Douro Valley and France's Bordeaux region. Until then...........