From Hollywood to Vine with Vineyard {511}
Adventures in Wine, Food, Film and Travel
---

Ed and I just returned from two weeks in France, a week of which was spent on a Viking River cruise on the Rhone and Saone Rivers. The cruise started in Beaune, the wine capital of Burgundy. Many of the region's vineyards are still owned by the Hospices de Beaune, founded in 1443 as a hospital. Many of our favorite Chardonnays and Pinot Noirs are made in the "Burgundian style." However, I must admit, I like the "Sonoma style" better.
Next we cruised to Lyon, a charming, small, 2000-year-old city, and a UNESCO world heritage site. Lyon is known for its fabulous food, home to over 2000 restaurants. We ate at two great brasseries--Le Sud and L'Est--both owned by world-renowned chef Paul Bocuse and where we enjoyed Remi Niero 2011 Condrieu wine, made from the Viognier grape.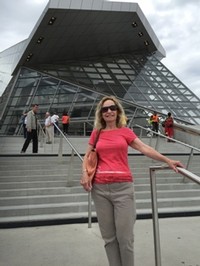 Aside from just drinking wine and eating great French food in Lyon, we visited the Musee des Confluences, a huge museum whose ambitious scope stretches from the origins of the universe to life after death, housed in a striking new building at the point where the Rhone meets the Saone. The building was designed by Austrian architects Coop Himmelblaus and consists of a 40m-high glass and steel "crystal" and a 6,000 ton "cloud" resting on a monumental concrete plinth. Taking in more cultural activities, we followed Van Gogh's footsteps in Arles and in St. Remy de Provence, and visited the hospital where Van Gogh painted many of his great works after the "ear incident."
While we were in Avignon, known as the "City of the Popes" and where the Popes of the Holy See resided for most of the 14th century in their magnificent Papal Palaces, we took a side trip to Chateauneuf du Pape to do some wine tasting again. Two popes from Avignon had decided on Chateauneuf as their seat. Only ruins remain of the two papal castles, but the Papal vineyards still deliver their famous red wine, of which grenache is the main grape.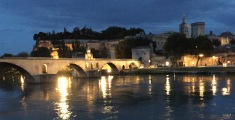 Even more famous than the papal residency is the French nursery ditty "Sur le pont d'Avignon, l'on y danse, l'on y danse," so we took tons of photos of this bridge all aglow at night.
We disembarked in Avignon and took a fast TGV train to Nice before heading home, but not before enjoying some fabulous art in our palatial digs there--Hotel Negresco--every inch covered with original art work, and not before having great meals in its restaurant La Rotund, built like a merry-go-round. Our last dinner was in in Le Bistro du Port, with a view of some fabulous yachts and where we sipped Chateau de Berne 2011 Cote de Provence wine made from the Semillion grape. Don't think there were any wines left to try :-)