April 10, 2015 |
Irene Ojdana
Ed and I recently attended a Napa Valley Film Festival (NVFF) sneak preview of a terrific film: Woman in Gold, at the Cameo theater--the oldest single-screen theater in the US--in St. Helena, California. The film starred the immensely talented Helen Mirren and Ryan Reynolds and was directed by Simon Curtis (My Life with Marilyn). Mirren stars as the Jewish exile Maria Altmann, who escaped from Austria and likely death in the camps; she sought the restitution of the luminous Gustav Klimt painting--in shimmering gold and oil on canvas--of her aunt Adele Bloch-Bauer, the subject of the painting, and four other Klimt paintings, all looted by the Nazi's in World War II Austria from her family.
At the time of the 8-year effort to regain the paintings, the one named "Portrait of Adele Block-Bauer 1" (1907) was considered by many to be Austria's Mona Lisa. Reynolds played her only-32-year-old attorney, E. Randol (Randy) Schoenberg, grandson of Austrian composer Arnold Schoenberg, who himself fled Austria in 1933, and son of Altmann's close friend. Together Altmann and Schoenberg took the claim against the Austrian government all the way to the U.S. Supreme Court, which found in favor of Altmann. The Austrian federal art museum, the Belvedere, where the paintings had been exhibited, returned the paintings to their rightful owner--Altmann.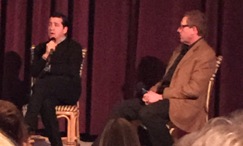 Following the screening, David Glasser, President and COO of The Weinstein Company, which generously provided the film, participated in a Q&A with Festival founder Marc Lhormer. (See photo.)
The film was especially poignant for Ed and me as we had attended a showing of the painting "Portrait of Adele Block-Bauer 1" at the Los Angeles County Museum of Art (LACMA) shortly after it was returned to Maria Altmann in 2006. We met both Altmann and Schoenberg there. Although LACMA had so much wanted to acquire the painting, it was purchased by Jewish philanthropist and cosmetics heir Ron Lauder (son of Estee Lauder), for $135 million and hangs in his Neue Galerie in New York City. The other four Klimt paintings were sold at auction for $192.7 million. The combined proceeds for the five paintings were bequethed to her heirs. Altmann passed away in 2011 just after her 95th birthday. What a woman!
Prior to the screening, we were treated to some great Freemark Abbey Chardonnay, and afterwards we walked over to Caldwell Snyder for a VIP after-party catered by Meadowood Estate Events. In addition to the 2010 Diamond Mountain District Cabernet Sauvignon we donated, patrons were treated to Alpha Omega, Sullivan, and Paratus wines. An after-after party at Raymond Vineyards was enjoyed by many of the late night revelers.
The wonderful evening was a fundraiser to support the NVFF's year-round film education and outreach programs and exemplified what the Festival offers as part of its Patron Circle and year-round programming programs.