From Hollywood to Vine with Vineyard {511}
Adventures in Wine, Food, Film and Travel
---
The City of Bordeaux was the perfect place to start our Bordeaux wine cruise on the Dordonne and Garrone rivers throughout the region of Bordeaux. But the port City of Bordeaux is not just about the "Bordeaux blend." It's not just about what happens inside that French oak. It's about the old, the history which reflects the legendary land of monumental architecture of the chateaux, and the new; not just the Bordeaux that was a dingy city to pass through with coal-blackenned facades on the way to somewhere else, but now a vibrant and beautiful city in its own right. It was named a UNESCO world heritage site in 2007 after its crumbling city walls had been taken down and the light let in.
We stayed at the Intercontinental Le Grand Hotel, built where the Roman forum once stood, and where we dined at its celebrity chef Gordon Ramsay restaurant. From our hotel window we saw a sparkling street dominated by the opera house with its grand pillars.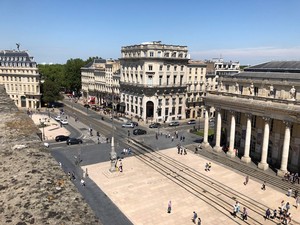 Of course, Bordeaux is about wine too, reflected in its wine museum, La Cite du Vin, designed by Anouk Legendre and Nicalas Desmazieres. Its shimmering gold aluminum facade resembles the swishing around a wine glass.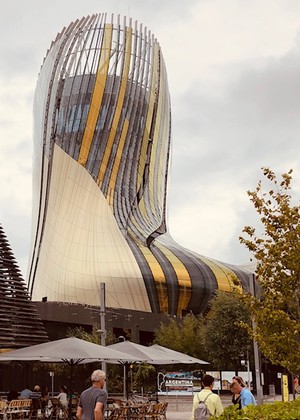 We toured the old city ("Vielle Ville"), in the rain. Apparently, it rains a lot in Bordeaux, just as it does in Paris. In fact, Bordeaux reminded me of a little Paris.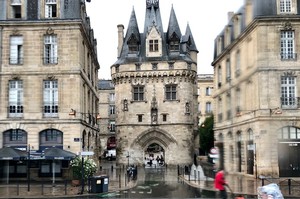 But the main reason Ed and I were in Bordeaux was to particapate in a "wine lover's cruise" aboard the AMADolce,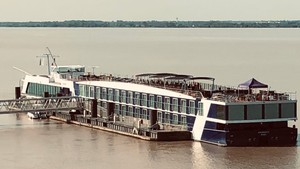 hosted by friends Peter and Katie Mondavi of Napa Valley's historic Charles Krug Winery to explore the greater Bordeaux region.
Aboard ship, Peter gave several tastings and interesting discussions on board about Bordeaux and Charles Krug wines.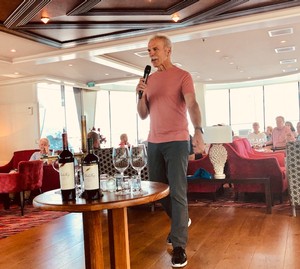 We even had a blind tasting, comparing Krug and Bordeaux. I preferred the Krug. I guess I'm partial to Napa wines.
Our shore exursions were very interesting. One of the first was to Saint-Emilion AOC (appellation d'original controllee, a government controlled designation of origin, which signifies where grapes are grown, similar to our AVA or American Viticulture Area). We drove through some very lush vineyards with views of stately chateaux,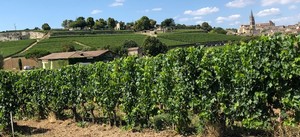 and vistited the historic Chateau Soutard for a Grand Cru Classe wine tasting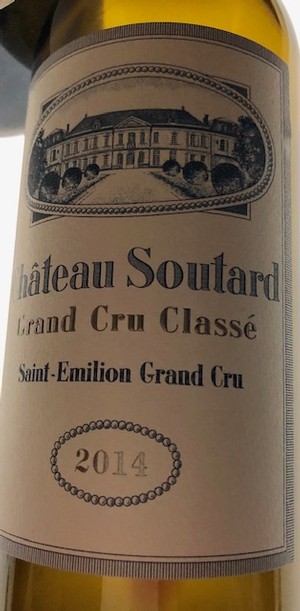 in modern vat and barrel rooms replete with sparkling chandeliers.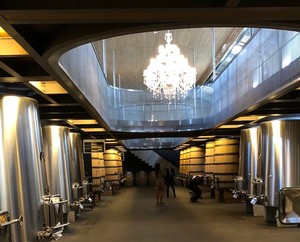 On the way to the Sauternes wine region, we visited the historic Roquetaillarde Castle in Mazeres, a fortress initially built in the 10th century by Charlemagne.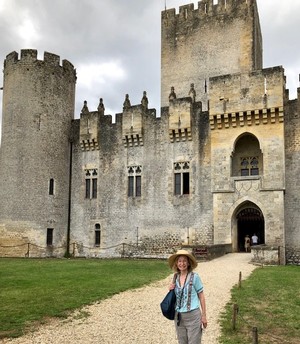 It has been in the same family for 300 years. In fact, the current owner led a tour of the castle and demonstrated how his ancestors could pull up the drawbridge in case of an invasion.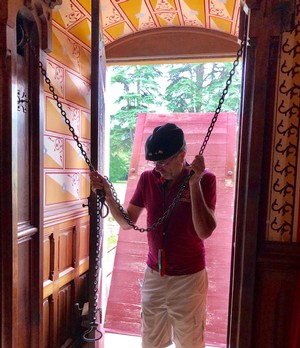 In Bommes, located in the Sauternes wine appelation, we toured Chateau Guiraud to see how its lovely, sweet Sauternes wine was fermented in underground steel tanks.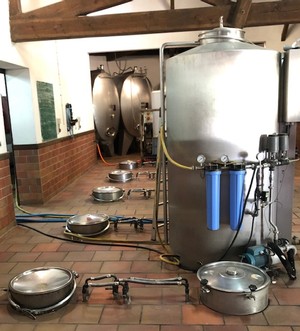 On our last day in Bordeaux, Katie and Peter Mondavi graciously hosted a private winery tour, delicious luncheon and tasting at Chateau Haut-Bages Liberal in the Pauillac appelation. The wine produced there was classified as one of eighteen Cinquiemes Crus in the Bordeaux Wine Official Classification of 1855. It is owned by the Lurton family, involved in Bordeaux wine production since 1820.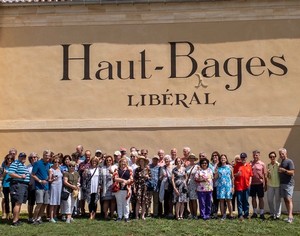 We increased our knowledge of Bordeaux wine and made some new friends on this river cruise; we hope we will meet up with them again soon.
The Douro River, in Portugal's stunning Douro Valley, is where Ed and I experienced the most beautiful wine growing regions in the world aboard an AmaWaterways wine cruise, sponsored by The Dry Creek Winegrower's Association. But first, in order to get to the cruise, we had to fly into Spain's capital, Madrid, and stayed there for three nights to enjoy the city and Spanish wine and cuisine.
On our first night there, we at Restaurante Botin (founded in 1725). It's the oldest consecutively open restaurant in the world, according to The Guiness Book of World Records. We ordered the suckling pig (so popular in Madrid), which was roasted in the restaurant's original ovens to a golden crispness on the outside and milky tenderness on the inside.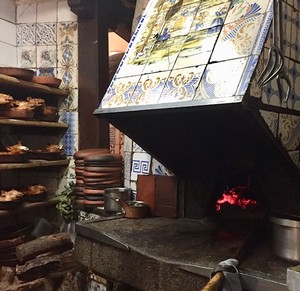 After dinner, we toured Botin's ancient wine cellar.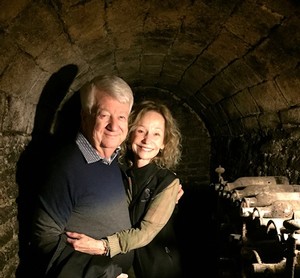 The next day, we visited Madrid's famous Plaza de Toros de Las Ventas, where its famous bull ring is situated and which dates back to 1929. The outdoor sculpture there depicts the bravura of the bullfighter.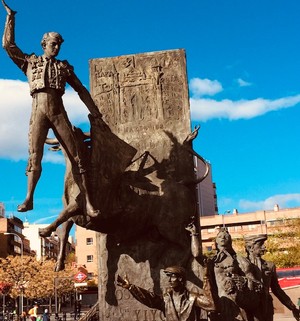 On our last night in Madrid, we and our friends were lucky to score the chef's kitchen table at the Michelin-starred A'Barra Restaurante for a 21st Century meal paired with both Spanish and French Wines, including Rioja and Bordeaux.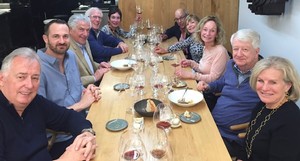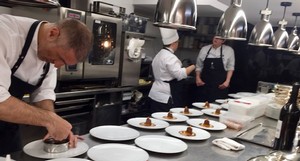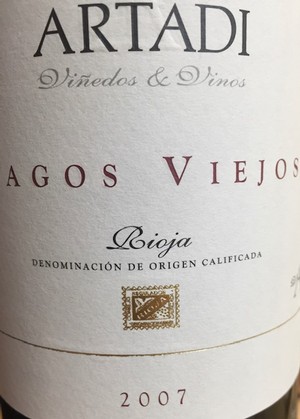 After our too-short, 3-day stay in Madrid, we boarded the ship on the Douro River on the Spanish border. The cruise was hosted by the Dry Creek Winegrowers Association of Sonoma. Some of our friends had signed up, so we said "all aboard!"
Ed and I had visited the Douro Valley before, but wanted to see its magnificant scenery again. Deep gorges alternate with tranquil valleys (mostly unpopulated, which we loved). Terraces on both sides of the river run down to rocky hillsides planted with vines.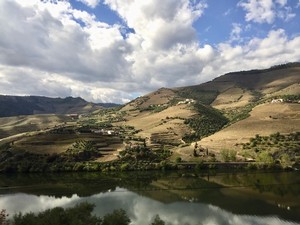 The Douro River rises in Northeastern Spain and flows in a westerly direction for 360 miles. For the next 70 miles it forms its border with Spain and then, for its only navigable stretch--the part which formed our cruise-- cuts across Portugal for 130 miles to reach the Atlantic at Porto.
The first morning of our cruise landed us in Pinhao, in the heart of the prime port-producing region. There we discovered the Pinhao railway station, with its series of 24 fine blue and white tile murals, illustrating the history of winemaking and the culture of the area.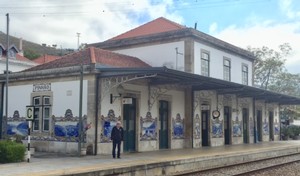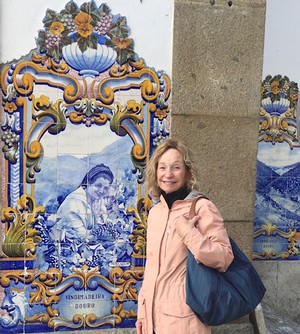 The train station, built in 1879, replaced the flat-bottomed boats that were previously used to carry wine in casks from quintas (wine-growing estates) downstream to Porto.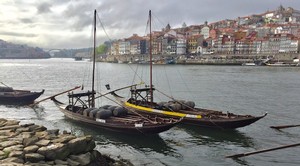 Now the wine is transported by tanker trucks.
During our cruise, we visited quintas for wine tasting, such as Quinta da Avessada, in the village of Favaios. There the "winegrower," with the nickname 'Mr. Bean" because of his resemblance to the actor, told us about the emphasis on preserving the unspoiled landscape of the Douro wine region.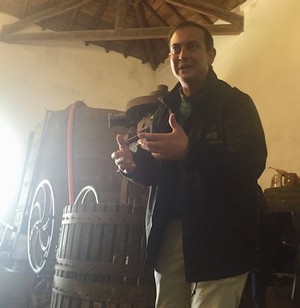 During another tasting, this time in Guimares, we sampled a very nice wine, new to us, called Vinho Verde. Although the name translates as green wine, it's usually drunk as a white wine. It's young, being released 3-6 months after harvest. It has a slight effervescence from the added carbonation.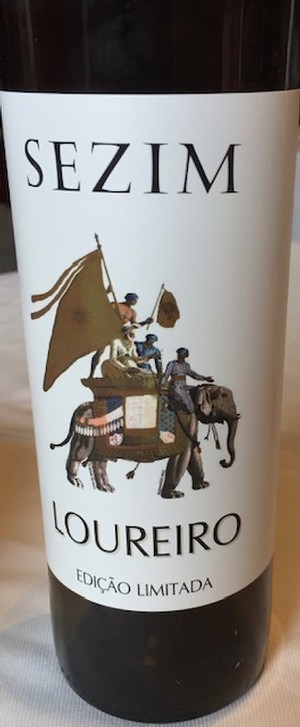 When Ed and I were much younger, we drank very inexpensive Mateus Rose wine out of round, squat bottles from Portugal. Who knew that the Mateus family owned an enchanting palace surrounded by extensive gardens, just outside of Vila Real, Portugal?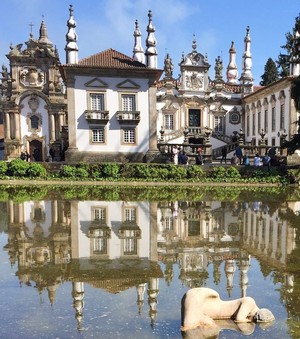 On our last day of cruising the Douro, we toured the city of Porto, the second largest city in Portugal, behind Lisbon. We took a cable car up a hill to Pont-Dom Luis, a bridge designed by a colleague of Gustav Eiffel in 1886. The bridge connects Porto to Vila Nova de Gaia, where port wine tasting rooms and storage facilities are located. From up there, we had dizzying views of the city below.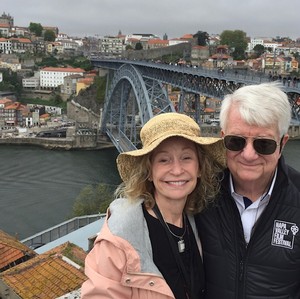 We are now ready for our next wine cruise of the Bordeaux wine region. 'Till then.............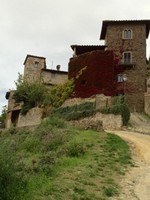 Ed and I recently spent a week in a guesthouse in the Chianti region of Tuscany. We were finally able to take advantage of the guesthouse for which we bid and won at a V Foundation silent auction. The week at the guesthouse was donated by cancer researcher Dr.Olja Finn (at the University of Pittsburgh) and her husband Professor Emeritus Dr. Seth Finn at Robert Morris University in Pittsburgh. They restored the all-stone guesthouse, originally a farmhouse attached to a (deconsecrated) Catholic church with a bell tower. Such a charming home away from home!
We spent the week cooking pasta with Seth in his kitchen or ours (unfortunately Olja was back in Pittsburgh), eating at some great restaurants like Antinori-owned Osteria del Passignano and Ristoro del Lamole, reached from a very winding road with a great view of Chianti.
Of course we visited wineries to experience Chianti Classico wines, like Ca di Pesa, near our guesthouse in San Martino and owned by Jonathan Auerbach, Chief Strategy Officer at Pay Pal in NYC. Our favorite winery experience, however, was at the amazing new Antinori in Bargino, which has English-language tours and a restaurant. Upon arrival, we walked up a dramatic winding staircase to see the very contemporary buildings and vineyards. Little did we know that both the vineyards and buildings were situated over the winery, which is built into the mountain 16 floors below. The cellar structure was conceived to allow the grapes to move with the flow of gravity from the top floor down to the fermentation tanks, eliminating the need for mechanical pumping (protecting the grapes) and the need for refridgeration, as the grapes and wine are cooled naturally by the soil surrounding the cave. The beautiful winery was designed by Archea Assocati Studio, enginering by Hydea, and took seven years.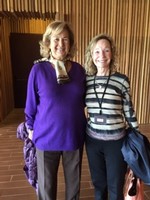 We began our tour with a film about the Antinori family and winery. Marquese Piero Antinori, the current proprietor of the winery, can trace his family history back six centuries to 1385, when his ancestor Giavanni di Piero Antinori enrolled in the Wine Guild of Florence. (We actually met Piero at a Napa Vintners Association Auction, when we sat at the same table with him.) This time, we were lucky to have his wife, Marquesa Franchesca Antinori sit with us at the film and then accompany us on our tour of the winery.
We tasted some delicious Villa Antinori Chianti Classico, Marchese Antinori Chianti Classico Riserva and Vinsanto del Chianti Classico, and learned as we did at other wineries in Chianti that the Sangiovese grapes are rarely blended with other varietals in order to capture the uniqueness and freshness of the region.
Ciao!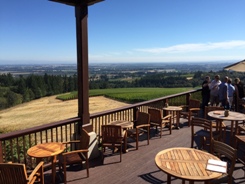 After Ed and I attended a wedding in the Mt. Hood area outside of Portland, we made a wine tasting tour of the Willamette Valley, mostly around the town of Newberg. Some of our favorite wines we discovered were Ken Wright Cellars 2012 Yamhill-Carlton District Pinot Noir; Dobbes Pinot Noir; Chehalem Pinot Noir and Chehalem Ian Chardonnay. This Chardonnay was all the more special since it has the name of our almost- three-year-old grandson Ian. We stayed at the lovely Allison Inn and Spa in Newberg.
We also managed to do some hiking and exploring in Oregon and got to see the beautiful Multnomah Falls when we weren't wine tasting--other healthy alternatives to red wine!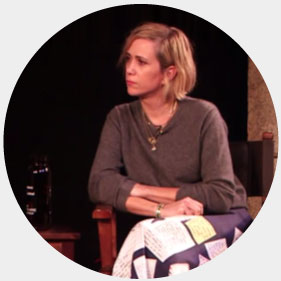 Ed and I attended the Sundance Film Festival again this year, which ran from January 22 to February 1. We attended many films, and the favorite for both of us was the documentary The Best of Enemies about the explosive series of 10 televised debates between liberal Gore Vidal and conservative William Buckley. Both of these men were brilliant and witty, and delivered a no-holds-barred dialog about poliltics, religion and sex. Apart from this film and of the films that we saw at Sundance, we concluded that the Napa Valley Film Festival screened more uplifting and entertaining films.
An extremely interesting panel I attended called Power of Story: Serious Ladies at 2015 Sundance Film Festival, consisted of Lena Dunham (Girls), Mindy Kaling (The Mindy Project, The Office), Jenji Kohan (Orange is the New Black, Weeds), Kristen Wiig (Bridesmaids, Saturday Night Live) and New Yorker critic Emily Nussbaum. It was quite hilarious to hear them explore the stereotypes of women in film and television. Kristin Wiig (picture) was especially funny. I had actually sat in back of her during the screening of Diary of a Teenage Girl, in which she played the immature mother of the teenage girl, earlier that same day at Sundance.

Ed and I celebrated part of the year-end holidays in Mendoza, in the heart of Argentina's wine-producing region, doing some serious wine tasting when we weren't hiking in the Andes. We stayed at the beautiful Cavas Wine Lodge, overlooknig 35 acres of vines at the foot of the magnificent, snow-capped Andes. At Cavas we had a wonderful Christmas eve dinner with the gracious owners of Cavas, Cecilia Diaz Chuit and Martin Rigal.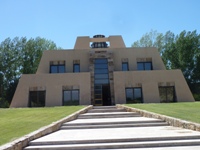 Our favorite wineries we visited were Vino Cabos, of which Sonoma winemaker Paul Hobbs is part owner, and Catena Zapata, which is housed in an amazing replica of a Mayan pyramid (picture). Our favorite wine at Catena was the 2012 Catena Alta Chardonnay.
Hiking the Andes was surely an experience with our guide Francisco. We had a picnic lunch in the middle of a clearing with horses looking on.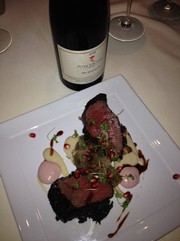 Ed and I recently returned from Boston, Massachusettes, where we not only visited the extremely interesting and beautiful JFK library and walked the Freedom Trail, but also ate at Harvest Restaurant in Cambridge. The food there was worthy of its name, as we were served the freshest of farm-to-table ingrediants. Our favorite dish was an amazing and moist venison paired with the best wine we drank in Boston-- a 2009 Peter Michael Ma Danseuse Pinot Noir. It was so fitting to eat at the terrific Harvest, while back home in Napa Valley, we had just completed our own terrific harvest of our 2014 Diamond Mountain District Cabernet Sauvignon.
We ate at other restaurants too, but couldn't resist the lobster roll (of course, not the only lobster we ate in Boston) at the restaurant called Mooo, in our hotel XV Beacon -- a great, award-winning boutique hotel, right across the street from the Boston Commons.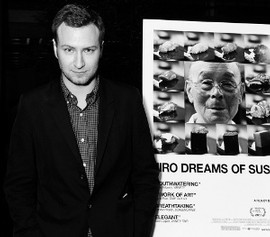 David Gelb, the director of the super successful documentary Jiro Dreams of Sushi (for which Ed was an Executive Producer), just sold a docu-series about other famous chefs to Netflix. Jiro, about an 85-year-old sushi chef, whose three-Michelin-starred restaurant in a Tokyo subway, was 30-year-old Gelb's first feature. The terrific film was about Jiro's striving for perfection and about his 50-year-old sushi chef son wondering when his father would retire so he could take over the restaurant. (The younger son, knowing he would never take over, opens his own sushi restaurant in another part of Tokyo.) It was also the restaurant to which Prime Minister Abe of Japan took President Obama right off of Airforce One upon Obama's arrival in Japan.
Ed and I are looking forward to seeing Gelb's other documentaries about talented chefs and their stories creating mouth-watering food in exotic locations. Bon appetit!

Ed and I very recently returned from a Danube River cruise, which started out in Budapest. There, we tasted the best wines of our whole trip (which surprisingly included Paris, which we visited after the cruise).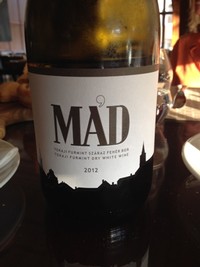 At the Four Seasons Hotel Gresham Palace, in Budapest, we had our personal favorite-- a dry white wine called MAD-- made from a grape varietal called furmint. Furmint is a grape varietal most famously associated with Hungary's famous, sweet Tokaji wines. The Tokaji region and its wine are held in such esteem in Hungary that the Hungarian national anthem thanks God that Tokaj szőlővesszein nektárt csepegtettél ('into the vineyards of Tokaj you dripped sweet nectar').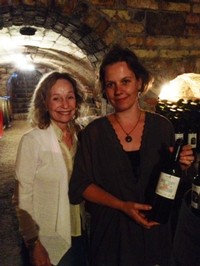 We also took a wine tasting tour of the Etyek wine region, just outside of Budapest. We visited three wineries: Hernyak Estate (Pinot Noir and Sauvignon Blanc); Zarandok Pince (Chardonnay, Pinot Gris); and Gyula Oroz (Pinot Noir and Chardonnay/Sauvignon Blanc); where we also had dinner. Our favorite from that area was a Pinot Gris called Bernadette, which we tasted in its cave. That's Bernadette and me in the photo.
After boarding our cruise, we arranged a wine tasting dinner with fellow cruisers/wine lovers, to which we contributed our very own 2010 Diamond Mountain Cabernet Sauvignon--everyone's favorite.

My husband Ed is one of the executive producers of the wonderful 2011 documentary feature film Jiro Dreams of Sushi, which was directed by David Gelb. It is about the almost 90-year old sushi chef, Jiro Ono, his search for perfection in the making of sushi, and his relationship with his two sons. In fact, Bob Iger, CEO of Disney, uses this film as a mangement tool to motivate his staff. Jiro Dreams of Sushi, which was screened at the 2011 Napa Valley Film Festival, is the film of which Ed is the most proud to have been a part.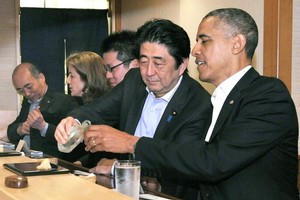 On April 23, 2014, within 90 minutes of landing in Tokyo to meet with Japan's Prime Minister Shinzo Abe, Abe took President Obama to eat at Sukiyabashi Jiro, the only sushi restaurant in the world to be rated with three stars by the Michelin Guide. There are only about 100 restaurants in the world with three Michelin stars and, I'm sure, it took a prime minister to score the reservation there. It is located in a Tokyo subway, has only ten seats, and is extremely popular. There is no menu, one eats what chef/owner Jiro Ono puts in front of him or her, and the meal costs about $300 per person.
Although director David Gelb started out to make a movie about several sushi restaurants in Japan, after meeting chef Jiro Ono, felt compelled to do the film about him and his fabulous restaurant. You may stream the film on Amazon Prime Instant Video or on Netflix.
At the end of the meal, President Obama told Prime Minister Abe that, even though he had eaten alot of sushi as he came from Hawaii, it was the best sushi he had ever eaten. If you are driven to make a reservation to fly to Tokyo, just know that, it could take at least 3 months to get into Sukiyabashi Jiro, if ever. You may have better luck with the French Laundry!
Photograph by Cabinet Public Relations Office/Japan Pool via Bloomberg