From Hollywood to Vine with Vineyard {511}
Adventures in Wine, Food, Film and Travel
---
The Napa Valley Vintners (NVV) celebrated the 2019 Napa Valley vintage, by throwing a tasting and luncheon in the To Kalon Cellar, at the Robert Mondavi Winery, on December 3. (In its 75th year, the NVV is an organization with the mission to promote and protect Napa Valley and with the goal to position and champion Napa Valley as the world's premier wine region. Vineyard {511} is a member of the 500- plus- member organization.)
We gathered with fellow vintners and winemakers to get a first taste of the 2019 vintage and to see what older vintages the 2019 reminded us of.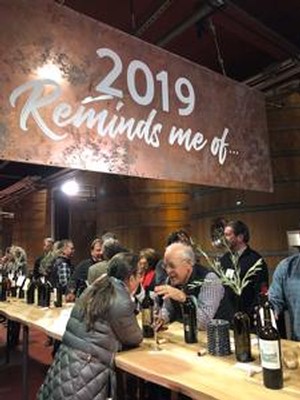 All 500 members of us also shared the wines of winemakers who inspired us. Hands down, our own winemaker Rob Lloyd inspired us the most. (For all the activities 1000 of members' wines were shared!)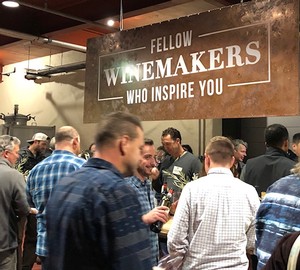 We all sat down at a 400-foot family table,
where we made new friends and enjoyed a scrumptious lunch. The first course was a salad of autumn and winter leaves with creamy skyhill goat cheese vinaigrette, puffed wild rice with compressed pears and apples. The main course was medallions of beef with wild mushroom-port sauce and natural pork tenderloin skewers, with Spanish flavors, pomegranate gastrique and carrot top salsa verde, plus great veggies--and shared each others' wines (again).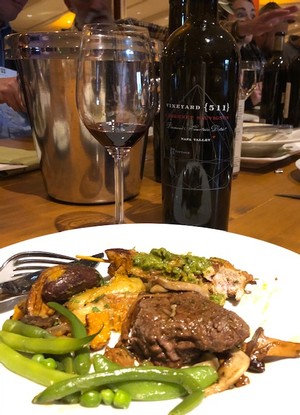 And did I mention dessert? There was pumpkin cheesecake, orange-pistachio-white chocolate financier and salted caramel chocolate cremeaux tartlette. Yummmmmmmmmmmmmmm.
Our 2019 has only recently begun aging in 100% French oak and will be for 30 months total, with another 18 months in the bottle before being released in 2023. Cheers to that!
The Ninth Annual Napa Valley Film Festival (NVFF), which ran November 13-17, 2019, was a terrific success. The festival, which celebrates the art of independent filmmaking, is the only film festival completely immersed in the art of film, food and wine.
Films were screened up and down Napa Valley: in the City of Napa at the Uptown Theater, the Archer Hotel, and CIA at Copia; in the City of Yountville, at the Lincoln Theater; and in the City of St. Helena, at the Cameo Theater, the Native Sons Hall, and the Charles Krug Winery. My favorite films were "Ford v Ferrari", directed by James Mangold, with Matt Damon and Christian Bale, which opened shortly afterward nationwide (grossing the most of any film that weekend), and "Standing Up Falling Down," directed by Matt Ratner, with Billy Crystal, Ben Schwartz, and Grace Gummer, (which opens early next year.)
Our favorite screening venue was the Cameo Theater, the oldest, continuously running single-screen movie theater in the US. We love the Dolby sound system and love the two-person love seats!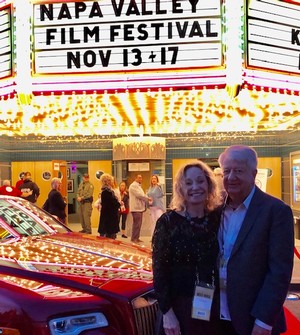 By the way, that's a Rolls Royce we're standing in front of. Rolls is a major sponsor of the Festival, and we got chauffeured around in one, one of the great perks of being in the patron level "movie mogul." As founding patrons of the Festival, we've seen it grow and enhance Napa Valley. Cinema Napa Valley is a 501c3 non-profit that not only celebrates the cinematic arts, but also enriches the community with year-round educaton and outreach programs. One of the programs -- Inspire--is a multi-school field trip for 1200 Napa and Solano County middle and high school students during the festival to watch documentary films and engage in conversation with filmmakers.
As patrons of NVFF, we also get to meet with filmmakers and movie stars. At the lovely movie mogul dinner at the Napa Valley Reserve, a private wine club founded by William Harlan, owner of Harlan Estate Winery. The dinner was catered by Meadowood (another major sponsor of the Festival), where we had dinner with actor and musician Kevin Bacon and his wife, actress, producer and director Kyra Sedgwick.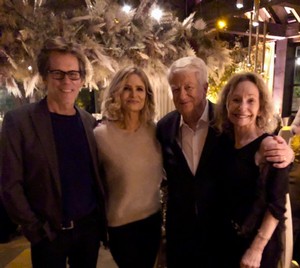 Bacon was the recipient of the Charles Krug Legendary Actor Award at the Festival. He is probably best known for his work in the film "Footloose," among countless other films. Sedgwick is well-known for her work as Deputy Chief Brenda Leigh Johnson on the TV show "The Closer."
Also receiving awards was actress Jillian Bell, known for her work on "22 Jump Street" and in "Brittany Runs a Marathon."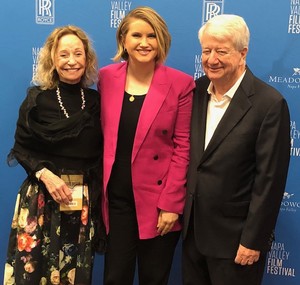 Wine was seen everywhere because, in case you didn't know, Napa Valley is a wine mecca. An important part of the Festival is the Vintner Circle, a group of Napa Valley wineries, that pairs directly with the Festival's Patron Circle. In addition to pouring their best varietals at VIP events, each winery hosts an intricate dinner for Patron Circle members, celebrities and filmmakers. (Ours was the one at the Reserve.)
After the awards program at the Lincoln Theater, we had dinner at another Vintner Circle winery, Clif Lede Vineyards, in Yountville. There, we shared a table with actor William Fichtner, known for his roles as Sheriff Tom Underlay on "Invasion" and as Alexander Mahone on "Prison Break."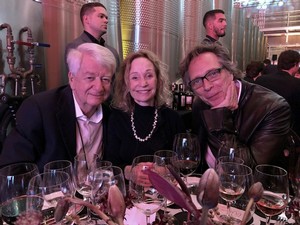 The third major focus of the Festival is the food of Napa Valley. Our favorite "foodie" activity was Variety's Film to Table, held at Charles Krug Winery. There talented chefs showcased their interpretations of dishes inspired by iconic food scenes. We especially liked Raymond Vineyard Chef Rafael Molina's braised crocodile with apple spuma, inspired by the film "Peter Pan" and Louis Martini Chef Jeffrey Russell's Fried Green Tomatoes (BLT), ispired by the film of the same name.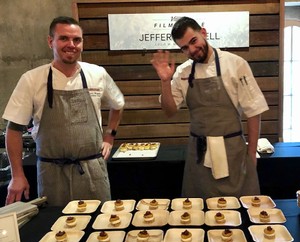 The chefs were so proud of their creations!
Looking forward to next year's Tenth Annual NVFF--a big deal!