December 10, 2019 | Irene Ojdana
Napa Valley Vintners 2019 Vintage Celebration
The Napa Valley Vintners (NVV) celebrated the 2019 Napa Valley vintage, by throwing a tasting and luncheon in the To Kalon Cellar, at the Robert Mondavi Winery, on December 3. (In its 75th year, the NVV is an organization with the mission to promote and protect Napa Valley and with the goal to position and champion Napa Valley as the world's premier wine region. Vineyard {511} is a member of the 500- plus- member organization.)
We gathered with fellow vintners and winemakers to get a first taste of the 2019 vintage and to see what older vintages the 2019 reminded us of.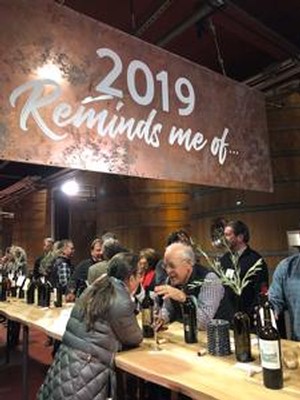 All 500 members of us also shared the wines of winemakers who inspired us. Hands down, our own winemaker Rob Lloyd inspired us the most. (For all the activities 1000 of members' wines were shared!)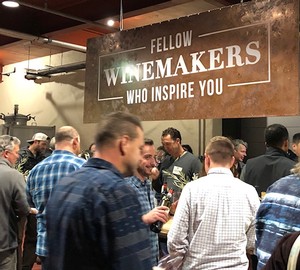 We all sat down at a 400-foot family table,
where we made new friends and enjoyed a scrumptious lunch. The first course was a salad of autumn and winter leaves with creamy skyhill goat cheese vinaigrette, puffed wild rice with compressed pears and apples. The main course was medallions of beef with wild mushroom-port sauce and natural pork tenderloin skewers, with Spanish flavors, pomegranate gastrique and carrot top salsa verde, plus great veggies--and shared each others' wines (again).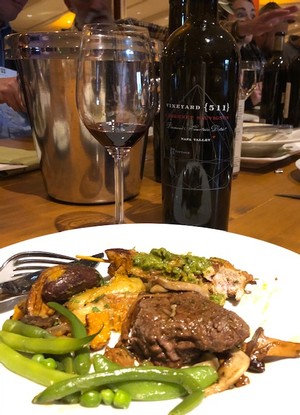 And did I mention dessert? There was pumpkin cheesecake, orange-pistachio-white chocolate financier and salted caramel chocolate cremeaux tartlette. Yummmmmmmmmmmmmmm.
Our 2019 has only recently begun aging in 100% French oak and will be for 30 months total, with another 18 months in the bottle before being released in 2023. Cheers to that!
Comments
Commenting has been turned off.