July 29, 2013 | Culture and Art, Movies, Napa Valley Film Festival, Theater | Irene Ojdana
"Sideways" the Play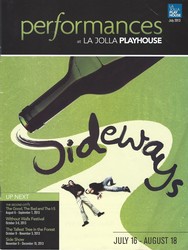 On July 21, 2013, Ed and I were lucky to be invited to the opening night of "Sideways," the play, at La Jolla Playhouse's Sheila and Hughes Potiker Theater. Our gracious hosts were Brenda and Marc Lhormer, the directors of the film "Bottle Shock," and the founders of the Napa Valley Film Festival.
We were totally surprised that the successful 2004 film "Sideways" was made into a hilarious play, which we thoroughly enjoyed. Rex Pickett, the playwright, who we met there, has rewritten his original novel "Sideways" into a play about what ensues when up-tight, wine-afficianato Miles (Patrick Breen), takes his buddy, womanizer Jack (Sean Allan Krill), on a week-long wine-tasting road trip through the Santa Inez Valley, a week before Jack's impending wedding. This stag party/wine tasting on wheels leads to their getting into trouble with the women they meet. I have a feeling that this terrifically funny play will be produced on Broadway.
The performance was preceded and followed by a delicious reception, where Jamieson Ranch poured its yummy chardonnay and pinot noir.
Comments
Commenting has been turned off.