March 10, 2014 | Culture and Art, Movies, Napa Valley Film Festival | Irene Ojdana
"Twenty Feet From Stardom" Nominated for Best Documentary Oscar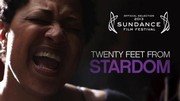 On March 2, the film Twenty Feet From Stardom, which the Napa Valley Film Festival screened in 2013, took home the Academy Award for the best 2013 documentary feature. The film, directed by Emmy award-winning Morgan Neville, tells the untold story of backup singers who have been behind some of the greatest musical legends of our time, such as Elton John, The Rolling Stones, Tina Turner, Sting, Beyonce, Alicia Keyes and Aretha Franklin. The film highlights the careers of backup singers Lisa Fischer, Darlene Love, Judith Hill, and Merry Clayton among others, who, like Darlene Love, either got beat up by an abusive music industry, or who, like Lisa Fischer, made a concerted decision not to seek stardom.
Immediately following the 2013 Napa Film Festival screening, we were lucky to have director Neville and Lisa Fischer for a Q&A session and then hear talented Ms. Fischer deliver a stunning impromptu a cappella performance. Check it out here. We also got to meet the delightful Lisa backstage. Actually, the nights right before and right after the screening, she was backing up the Rolling Stones, who were touring California.
Comments
Commenting has been turned off.