August 29, 2014 | Culture and Art, Los Angeles | Irene Ojdana
50th Anniversary of Beatles at the Hollywood Bowl
As a tribute to the Beatles and in honor of their first performance at the Hollywood Bowl August 23, 1964 (back when tickets for seats were $3-$7), the Hollywood Bowl put on 3 concerts of the same songs the Beatles sang that night 50 years ago. Luckily, Ed and I have season tickets to the Bowl, and I was able to see one of these new performances on August 22, 2014.
Bob Eubanks, host of the TV show "The Newlywed Game," was a popular DJ in L.A. back in 1964, at the time of the Beatles sold-out tour of the U.S., explained to the audience how he had put up his house to get $25,000 to book and produce the original performance at the Bowl. He read a telegram from Sir Paul McCartney, who was sorry not to be with them on stage. Then Dave Stewart, co-founder of the Eurythmics and his band, led the rest of the show, with songs performed by son Sam Stewart on the guitar, and son Django Stewart and daughter Kaya Stewart, who sang with their father.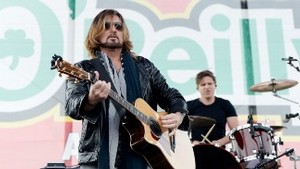 Guest stars Bill Ray Cyrus performed "It's A Hard Day's Night" and "Hey Jude," while the audience waved illuminated cellphones, and Australian Vanessa Amorosi rocked "Rollover Beethoven," "Get Back," and "Let It Be."
The night ended with "All You Need Is Love," with everyone swaying, dancing and singing along.
Photo: Kevork Djansezian/Getty Images
Comments
Commenting has been turned off.