June 11, 2014 | Napa Valley, Napa Valley Events, Wine Tastings | Irene Ojdana
Auction Napa Valley 2014 Sets Records
The 34th annual Auction Napa Valley, which was just held from June 4-7, broke its record for a second year in a row by raising $18.7 million for Napa Valley community health and children's education nonprofit organizations. The auction, which is put on by the Napa Valley Vintners (NVV), a non-profit trade association, lures wine and food lovers from over the world to beautiful Napa Valley to drink the best wines in the world, eat scrumptious food prepared by world-renouned chefs and bid on the finest of wines and breathtaking experiences, donated by generous NVV members, through both live, barrel, and silent e-auctions.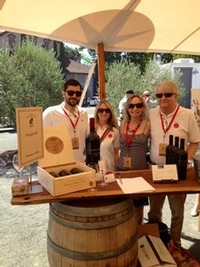 On Thursday, June 5, NVV members opened their homes to attendees with casual dinners all over the valley, such as Alpha Omega's succulent pig roast.
On Friday, June 6, the Barrel Auction and the Marketplace, where Napa vintners, such as Ed and I, poured great wines and Napa restauranteurs provided delicious tastes of their food, were held at the recently-remodled Charles Krug Winery. Ed and I (with help from daughter Kelly and son-in-law Jeff) poured our 2010 Diamond Mountain Cabernet Sauvignon for attendees who loved it.
On Saturday, June 7, in advance of the live auction, a lunch was served at Meadowood prepared by Napa Valley rock-star chefs Stephen Barber, Michael Chiarello, Curtis Di Fede, Thomas Keller, Cindy Pawlcyn, Richard Reddington, Brandon Sharp and partners Hiro Sone and Lissa Douman and, once the auction bidding ended, a luscious meal was created by 3-Michelin-starred chef of Meadowood's The Restaurant, Christopher Kostow.
These wineries provided the wines and experiences that received the highest bids:
Barrel Auction: Brand Napa Valley $83,050
Live Auction: Raymond Vineyards $840,000
E-Auction: Continuum Estate $21,000
The theme of of this year's auction, was "Sweet Home Napa Valley," and the vintner's association really showcased what a sweet place it is to live and produce great wines in Napa Valley.
View more photos and videos here.
Comments
Commenting has been turned off.