October 2, 2013 | Irene Ojdana
Audi Napa Valley Tennis Classic
From September 20 through 22, Meadowood Resort hosted its annual Napa Valley Tennis Classic, where the top collegiate players from seven major universities (Alabama, Boise State, Florida State, Texas A&M, Stanford, UC Berkeley, and the University of San Diego), combined in competition with the Unites States Tennis Association's (USTA's) Elite Junior Development Team. This is a unique event that pits collegiate players against juniors, a tournament found nowhere else.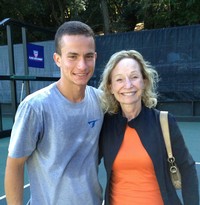 The players and their coaches were hosted by many families in Napa Valley, and Ed and I hosted the Bosie State and University of San Diego teams. In the grand finale of the tournament -- the Wildcard Shootout--the top player of each group competed in a fast elimination process using 10 point tiebrakers and, where the winner receives a coveted Wild Card entry from the USTA to a major tournament in the United States Futures and Challenger circuit. And wouldn't you know it, a super nice sophmore from University of San Diego-- Uros Petronijevic (from Smedervo, Serbia)-- won the Wild Card Shootout. We hope to hear about many more of his wins in the future (maybe a future Djokovic.)
Comments
Commenting has been turned off.