March 12, 2016 | Irene Ojdana
CabFest 2016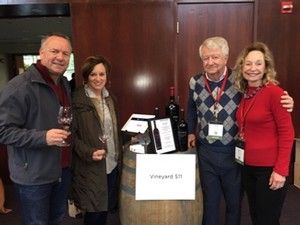 Ed and I poured our just-released 2012 Diamond Mountain District Cabernet Sauvignon at the second annual CabFest Napa Valley, held at the Lincoln Theater, in Yountville. The event that is dedicated to Cabernet Sauvignon was held over the weekend of March 4, starting with a concert by singer-songwriter Mat Kearney on Friday night followed by two days of cab tasting. The wine was paired with tasty nibbles catered by Feast in Santa Rosa. Over 1000 people attended giving them the opportunity to taste the wine Napa Valley is most known for--from over 100 wineries--and get to hear the stories behind the great wine from the vintners. All the while Karen MacNeil, well-known wine writer, held fun and interesting seminars, where she interviewed cabernet sauvignon vintners and winemakers and like "He said, she said," a game that pitted men against women about their cabernet knowledge, in the theater's auditorium.
CabFest also gave vintners such as Ed and me the opportunity to catch up with fellow vintners, such as Ed Wallis, of Wallis Family Estate-- also on Diamond Mountain--and to schmooze with John Dunbar, Mayor of Yountville and Chairman of the Board of the Lincoln Theater, and his wife Robin (picture).
All proceeds from CabFest go to arts and education programs at the Lincoln Theater.
Comments
Commenting has been turned off.