October 3, 2016 | Irene Ojdana
Calistoga's Third Annual Harvest Table
What do you feed 800 dinner guests? Luckily, 13 of Calistoga's restaurants shared the burden during Calistoga's 3rd Annual Harvest Table. This unique event saw white-linen-tablecloth-covered tables, decorated with lovely sunflowers, stretch all the way down Lincoln Avenue, which was closed to traffic. Some of the restaurants that participated were the Calistoga Inn, Brannan's, Johnny's, Checkers and the Culinary Institute of America. Volunteers manned wine stations selling wine provided by wineries from the Calistoga AVA.
Patrons had signed up in advance in a mad rush for each restaurant reservation, which sold out almost immediately. Ed and I scored tickets for Checkers for a delicious Italian meal, featuring lasagna and New York cheesecake. (I remember that from my Brooklyn days.) For every ticket sold, the Calistoga Chamber set aside a portion of the proceeds to benefit Calistoga Cares Food Pantry. This year the donation was about $4000.
Last year, the diners had to eat inside the restaurants, as the entire stretch of Lincoln Avenue had to be open to allow fire trucks to drive through to fight the devasting Lake County fires. This year, we had the boulevard all to ourselves, all 800 of us.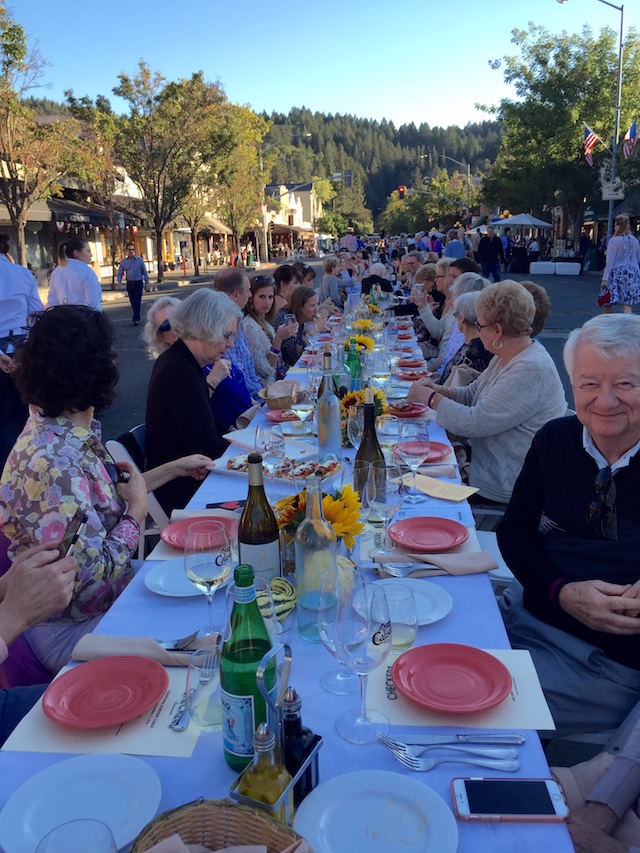 Comments
Commenting has been turned off.