March 16, 2013 | Napa Valley, Napa Valley Film Festival, Wine Tastings | Ed Ojdana
Death of a Napa Valley Icon
I just heard the sad news that Jimmy Barrett passed away on Thursday, March 14, at the age of 86. Jimmy is an icon in Napa Valley and best known for producing the 1973 Chateau Montelena Chardonnay that shocked the wine world in 1976, particularly the French, when it won a blind tasting in Paris beating out a lineup of French wines. Now known as the "Judgment of Paris," this competition helped to put Napa Valley on the map. It was also the basis for the movie Bottle Shock, starring Chris Pine, Bill Pullman and Alan Rickman. Two of the producers of Bottle Shock, Marc and Brenda Lhormer, are the founders of the Napa Valley Film Festival.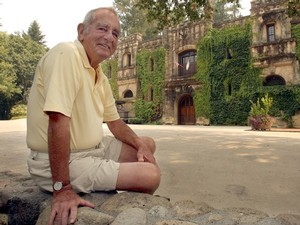 I did not know Jimmy very well and first met him playing in the men's Saturday morning tennis matches at Meadowood Resort. Although in his 80's and not very agile, the result of several knee operations, if the ball landed anywhere near him, he would return it. Like his underhand serve, his returns had a lot of spin on them. It took me quite a while to adjust to his returns – more than once I could only laugh as the ball curved away from my racket and I was left swinging at air.
Photo: SCOTT MANCHESTER/Press Democrat
A few years back, Irene and I sat with Jimmy and his wife, Judy, at the wedding reception of our friend, neighbor, and Reverie Winery owner Norm Kiken and wife Suzie Donahue. I remembered one scene in Bottle Shock where Jim Barrett (Bill Pullman) and his son, Bo Barrett (Chris Pine), don boxing gloves to settle their father and son differences. Naturally, I had to ask Jimmy if he still boxed. To my disappointment, he said he had never boxed in his life. Unlike movies based on true stories, where fictious events are added to enhance the entertainment value, Jimmy was the real thing in life.
Comments
Commenting has been turned off.