October 30, 2014 | Restaurants, Travel | Irene Ojdana
Dinner at Harvest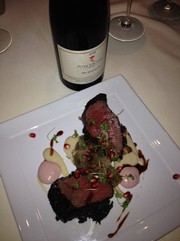 Ed and I recently returned from Boston, Massachusettes, where we not only visited the extremely interesting and beautiful JFK library and walked the Freedom Trail, but also ate at Harvest Restaurant in Cambridge. The food there was worthy of its name, as we were served the freshest of farm-to-table ingrediants. Our favorite dish was an amazing and moist venison paired with the best wine we drank in Boston-- a 2009 Peter Michael Ma Danseuse Pinot Noir. It was so fitting to eat at the terrific Harvest, while back home in Napa Valley, we had just completed our own terrific harvest of our 2014 Diamond Mountain District Cabernet Sauvignon.
We ate at other restaurants too, but couldn't resist the lobster roll (of course, not the only lobster we ate in Boston) at the restaurant called Mooo, in our hotel XV Beacon -- a great, award-winning boutique hotel, right across the street from the Boston Commons.
Comments
Commenting has been turned off.