April 6, 2014 | Napa Valley, Napa Valley Events | Irene Ojdana
Dinner at Vineyard 511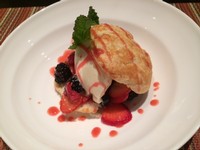 Saturday night Ed and I hosted a dinner party at our home at Vineyard 511. Our esteemed guests included vintners from Ackerman Family Vineyards, Paratus, relatives of Fisher Winery and other good friends, who enjoyed getting to know each other and eating delicious appetizers, such as lobster rolls, and rack of lamb and strawberry shortcake. The scrumptious meal was catered by Market restaurant in St. Helena. Most importantly, we celebrated Ed's half birthday!
Comments
Ann chriss
@ Aug 26, 2017 at 1:55 AM
I really appreciate this post. I've been looking all over for this! Thank goodness I found it on this blog . You have made my day! I think this is engaging and eye-opening material. Thank you so much for caring about your content and your readers.
domain 1$
@ Sep 18, 2018 at 5:22 AM
If such dish we get on dinner. love this dinner.
John
@ Sep 23, 2018 at 2:10 PM
Thanks
Godaddy Renewal Coupon
@ Sep 24, 2018 at 5:52 AM
Your article is incredible and fulfilling. I like it in particular. Want to peruse more posts from you.
Max Boost Omega
@ Oct 11, 2018 at 4:32 AM
This is an exceptionally awesome post and the manner in which you express your everything post points of interest that is too great. A debt of gratitude is in order for imparting to us this helpful
Maxitrim Elite Garcinia
@ Oct 20, 2018 at 2:36 AM
Incredible article. pls keep sharing such extraordinary articles.
Nuhydrate Serum
@ Oct 23, 2018 at 2:46 AM
Thankful for the post.Really envisioning read more. Phenomenal.
Keto Kinetics
@ Oct 30, 2018 at 2:38 AM
Much obliged to you for giving us the information of what you have portrayed. remember to visit our site :
$1 web hosting
@ Nov 16, 2018 at 2:52 AM
I truly delighted in scanning your article. I found this as a useful and fascinating post, so I think it is extremely valuable and proficient. I might require to thank you for the attempt you have made in forming this article
Commenting has been turned off.