May 12, 2013 | Culture and Art, Napa Valley, Napa Valley Events, Wine Tastings | Irene Ojdana
Dinner at the Napa Valley Reserve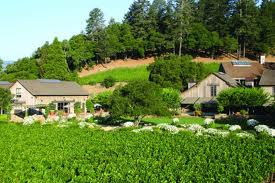 Ed and I attended a lovely reception and dinner, which was part of the third annual Volley in the Valley Tennis Tournament, at the Napa Valley Reserve. The Reserve is a private wine estate, where members can make wine without the hassles associated with making wine. Members can participate as much or as little as they like. With their membership fee and agreement to purchase a certain amount of wine, they can have terrific wine for their own personal use; they just can't sell it.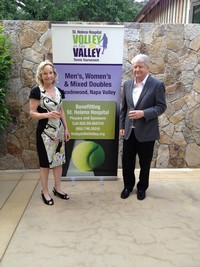 The tournament itself was held at Meadowood, in St. Helena, to raise money for the Adventist Heart Institute, which directly benefits St. Helena Hospital. The champagne reception was held in the Reserve's outdoor Pavilion Patio and the dinner in the Pavilion Dining Room. My favorite part of the dinner prepared by Estate Chef Alejandro Ayala was the lovely, light, "sweet" starter Sweet Pea Agnolotti, with pea tendrils, green garlic and lemon.
The highlight of the evening was the featured speakers: Dr. Gan Dinnington, Cardiothorasic Surgeon, St Helena Hospital; Peter Magowan, President and Managing General Partner, San Francisco Giants, 1993-2008; and Jeff Greenwald, MFT, and author of The Best Tennis of Your Life and Fearless Tennis. What I hope I will remember most from Greenwald is that, after missing a point in tennis (as in life) let the windshield wiper totally wipe it away and go on to the next point.
Comments
Commenting has been turned off.