July 3, 2014 | Culture and Art, Los Angeles, Movies, Theater | Irene Ojdana
GHOST THE MUSICAL
On June 29, Ed and I were back to Hollywood and Vine, at the beautifully-restored art deco Pantages Theater, to see the terrific Ghost The Musical. This stage version was directed by Matthew Warchus, book and lyrics by Bruce Joel Rubin and music and lyrics by Dave Stewart and Glen Ballard. Bruce Joel Rubin adapted the play from his Oscar-winning screenplay Ghost (1990).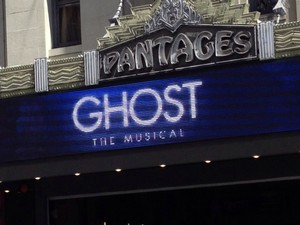 As you may remember, the plot of the film Ghost (can you believe it's been almost 25 years since it was first released?) revolves around lovers handsome banker Sam Wheat (played by Steven Grant Douglas--the late Patrick Swayze in the film) and sweet sculptor Molly Jensen (played by Katie Postotnik--Demi Moore in the film). Sam and Molly are attacked on the way back from her art show, and he dies and becomes a spirit caught between two worlds. Sam convinces the psychic Oda Mae Brown (played by Carla R. Stewart -- Whoopie Goldberg in the film--a part for which she won an Oscar) to warn Molly that her life is still in danger from their (so-called) friend, Sam's co-worker Carl Bruner (played by Robby Haltiwanger). Carl was responsible for Sam's death, as Carl hired someone to commit the attack to steal information from Sam to further a scam Carl has initiated.
The special effects and illusions created by Paul Kieve were amazing, and we were also not disappointed in the new portrayals by the actors, who had wonderful stage presence and marvelous voices; when Sam sang "Unchained Melody" to Molly, there wasn't a dry eye in the house.
Comments
Commenting has been turned off.