May 11, 2016 | Irene Ojdana
Kitchens in the Vineyards
On Saturday afternoon, April 30, my good friend Rita Burris and I toured 5 homes, which were part of Kitchens in the Vineyards, a benefit to support the 22nd annual Music in the Vineyards, a chamber music festival in Napa Valley. For 4 weeks from July 29-August 21, 17 concerts will be held at various picturesque wineries throughout the Valley, such as Domaine Carneros and Beringer Vineyards. And through Kitchens in the Vineyards, Rita and I got to tour picturesque homes in Napa, Yountville and St. Helena. Spotlighted were the kitchens and gardens; however, we were able to tour the rest of these homes, which were cleverly and uniquely designed.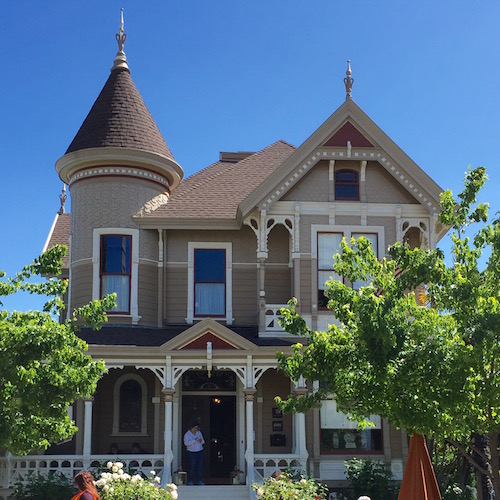 Probably the most unique home was the Ackerman Heritage House, an 1888 Queen Anne Victorian in downtown Napa, which was authentically restored to reflect its past grandeur. From its 14 original stained glass windows, elaborate woodwork and antique lighting and furniture throughout, every inch of the home amazed the visitor for its attention to detail and authenticity. Inside, there was also a library and outside an English garden replete with a 19th Century fountain and urns.
Restorations are very complicated, but adding to the efforts to restore the structure to its original opulent state, was the 2014 earthquake in South Napa, which caused considerable damage to the structure. However, Lauren Ackerman, the current homeowner, was not to be stopped in her mission to bring this home back to its original perfection.
Renouned Napa Valley chefs provided small bites at each home. Among my favorites were the cucumber gazpacho, courtesy of Rogello Garcia of Angele, Napa; the cheese puffs, courtesy of Ken Frank, La Toque, Napa; and strawberry shortcake, courtesy of Bob Hurley, Hurley's, Yountville. Yummy.
Comments
Commenting has been turned off.