November 22, 2014 | Culture and Art, Movies, Napa Valley, Napa Valley Events, Napa Valley Film Festival, Restaurants | Irene Ojdana
Napa Valley Film Festival Tribute Night
On Friday night, Access Hollywood's Billy Bush hosted the Napa Valley Celebrity Tributes to recognize the outstanding achievements of established actors and filmmakers, as well as rising stars. The BVisionary award was presented to screen-icon Kevin Costner (who was introduced by his buddy Bill Paxton), and the Domaine Chandon Rising Star award honored Jeremy Jordon. An additional tribute was presented to Michele Monagan. Before each star came on stage, film clips from many of the actors' films were shown. The number of fabulous films that Kevin produced, directed and always acted in was incredible!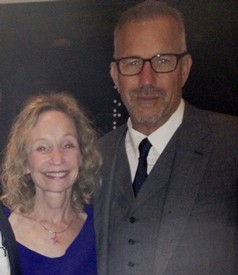 We had actually seen his most recent wonderful film, Black or White, which he both produced and in which he starred, the night before. He played a successful attorney, who has to fight for custody of his African-American granddaughter after his wife is killed in a car crash. He and his late wife had taken care of the little girl since birth after their daughter dies in childbirth.
After the Celebrity Tributes, Ed and I headed over to the etoile restaurant at the winery Domaine Chandon, in Yountville, where patrons of the Festival toasted the honorees at a private dinner. Ed and I were so lucky to be seated next to Kevin Costner and his beautiful wife Christine Baumgartner. Kevin was charming and extremely articulate about subjects diverse as hunting, vegetarianism, drugs, football, family, and film.
The dinner of Maine Lobster Bisque, paired with etoile Rose; Braised Short Rib, paired with Domaine Chandon Cabernet Sauvigon, Mt. Veeder 2010; and Honey Olive Cake, paired with Chandon Delice; was terrific too.
Truly a night to remember!
Comments
Commenting has been turned off.