November 30, 2018 | Irene Ojdana
Napa Valley Film Festival 2018
After our cruise to Spain and our exploration of Marrakech, we raced back home for the 8th Annual Napa Valley Film Festival (NVFF). As founding patrons of the Festival, Ed and I had even participated in its first teaser year (so there were actually nine NVFFs). Its mission is to support the cinematic arts and enrich the community by presenting an annual world-class festival and year-round education and outreach programs. And this year, what a world class jobit did, with more than 100 screenings of new independent films in 5 days!
We saw fabulous films such as The Front Runner, which followed the rise and fall of Senator Gary Hart. Hart was played by Hugh Jackman, who did a great job in portraying Hart's fall from grace from a publicized extra-marital affair. And from it his subsequent loss of the 1988 Democratic nomination for President (for which he was considered the front runner).
Another favorite was funny Green Book, starring Viggo Mortensen, who played a garrulous Italian-American bouncer hired to drive African-American world-class jazz pianist Don Shirley on a concert tour from Manhattan throughout the Deep South. Don Shirley could only stay in hotels listed in a green book that allowed black guests. Mortensen must have gained 30 pounds to portray the over-eating driver stuffing his mouth with large pizza slices while bonding with the more circumspect musician. The screenplay was written by the driver's son, who in a Q&A following the screening of the film, recounted how he remembered every word his garrulous father told him about the trip.
A documentary, Robin Williams: Come Inside My Mind, looked at what drove the incredible Williams to give voice to the countless characters in his mind. And another documentary, Hesburgh, provided a glimpse at more that 50 years of history through the eyes of the Catholic priest/President of Notre Dame University/Head of the Civil Rights Commission, who defied President Richard Nixon with his stands on civil rights. Ed is a Notre Dame alum and was at the University during Hesburgh's tenure there, so really appreciated the film.
Ed and I enjoy talking with the actors and directors who are either in the films we see at the Festival or who are provided tributes. We chatted with Lawrence Fishburne III ("Fish")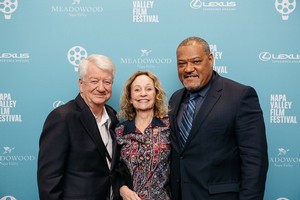 and with Billy Bob Thornton about his guitar playing.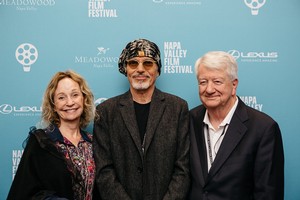 Forgive me for stating the obvious, but you can't have a festival in Wine Country without copious amounts of wine, and it flowed throughout the NVFF, with 150 participating wineries. Wine was available for purchase at selected screenings, but one of the best opportunities to get a total taste of Napa was to take a wine tasting break at either the Downtown Napa Intermission at the "Down Valley Hub" or the St. Helena Wine Pavilion at the "Upvalley Hub" at Farmstead/ Long Meadow Ranch. And did I mention wine dinners through the Vintner Circle? Members of the Patron Circle were able to enjoy dinners pairing world-class wines with foods prepared by award-winning chefs at 20 wineries throughout the valley. Filmmakers were also at these dinners to share conversation about their films.
Ed and I chatted with Geena Davis about movie distribution at cocktails and while we sat across the table from her at the Movie Mogul dinner at Meadowood. The dinner followed her new documentary, This Changes Everything, about gender inequality in Hollywood, and following a Visionary tribute to her about the issue.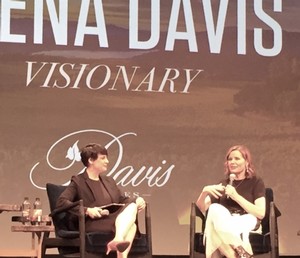 At the dinner, I sat next to Taissa Farmiga (kid sister of Vera). Taissa can currently be seen in The Nun and in What They Had. When I started talking to her, I thought I was sitting next to Vera Farmiga, who looks just like her.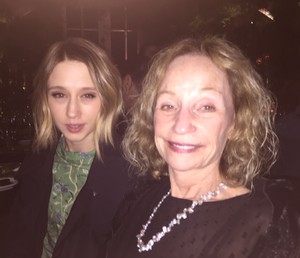 Taissa was part of the Festival's Rising Star Showcase.
Ed sat next to Alice Eve (Star Wars) who, along with Billy Bob Thornton and Laurence Fishburne III, received Celebrity Tributes.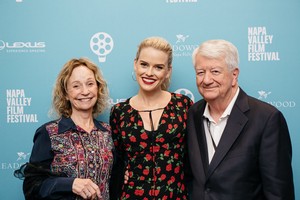 Alice also came to our place the next day for a wine tasting with her boyfriend Ollie and joined our wine club.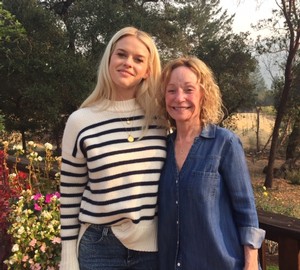 Now, we are looking forward to the 2019 Festival!
Comments
Commenting has been turned off.