June 6, 2018 | Irene Ojdana
Napa Valley Wine Auction 2018
I am so proud to be a member of the Napa Vintners Association (NVV). It knocked it out of the park again this year by raising an incredible $13.6 million for Napa Valley charities at its 38th annual Auction Napa Valley, which took place May 31-June 2, 2018. Through the Auction, NVV supports community health and educational organizations critical to helping families and children in need, especially as it had done following the wine country wildfires.
Since the Auction's inception, NVV has been able to donate an amazing $180 million to local charitable causes-- and now it's $193.6 million! More than 100,000 clients of local nonprofits are touched by Auction proceeds annually. Every child in Napa County has access to health insurance, thanks to the Community Health Initiative. (NVV is the largest private funder of this program in Napa County.) What's raised here, stays here.
As it has been since the Auction's inception, Meadowood Napa Valley was the venue for Saturday's Live Auction Celebration, considered the highlight of the three days of activities. The event's biggest wine lot was donated by Opus One, which included its wine dating back to 1979 and a trip to France for a masquerade ball at the Palace of Versailles. The lot was doubled for a second winner, so the total brought in for that lot was a whopping $1.4 million.
The day before, Charles Krug winery was the site for Friday's Napa Valley Barrel Auction and wine and food tasting event. It was the best Barrel Auction I'd attended, well organized in a lovely venue. The highest lot for the barrel auction was a red blend of 2016 VGS Chateau Potelle, which went for $114,300. In the online auction (to which we donated wine and a vineyard lunch experience), the highest lot of a salmanazar of Shafer Vineyards 1995 Hillside Select went for $20,200.
Ed With Katey and Peter Mondavi, Jr., of Charles Krug Winery, at the Barrel Auction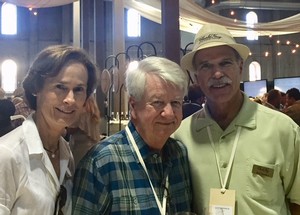 Irene With Michelle Baggett of Alpha Omega at the Barrel Auction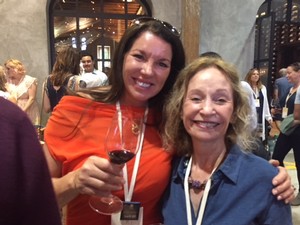 Some other fun events we attended were a "tent raising" at Meadowood--a party for Meadowood members to make up for the loss of the use of Meadowood facilities during Auction events--and a kickoff bottle party at Charter Oak restaurant for NVV members. There we were introduced to the honorary chairs for this year's Auction, fourth-generation Mondavi sisters of the Peter Mondavi Sr. family--who kicked off the festivities.
Ed and Irene at Meadowood Tent Raising Party with Greg Tucker of Notre Dame Wine Program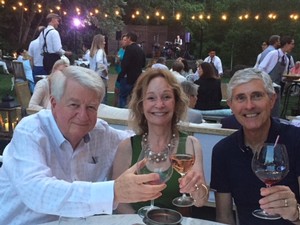 I am looking forward to next year's Auction, which will be celebrating the NVV's 75th anniversary with the best wines in the world!
Comments
Commenting has been turned off.