August 26, 2014 | Irene Ojdana
The 16th Annual V Foundation Celebration
Ed and I attended the 16th annual V Foundation Wine Celebration August 7-9. Throughout the weekend, we enjoyed ultra-premium wines, exclusive wineries, gourmet meals created by award-winning chefs, live and silent auctions, and great live entertainment, all to raise critical research funds to find a cure for cancer. And these weekend events raised a whopping 9.3 million dollars!
The V Foundation was started in 1993 by ESPN and the late legendary coach of the North Carolina State basketball team Jim Valvano ("Jimmy V"). Valvano, who before he succombed to metastatic adenocarcinoma, a form of cancer, challenged everyone to never give up in finding a cure for cancer. Since then, the Foundation has raised over $100 million.
Kicking off the weekend, we shared an intimate dinner at Vineyard 7&8 on the top of Spring Mountain, hosted by Launny and Weezie Steffens, their son Drew and his wife Missy. Then, the following night--Friday-- Ed and I poured our 2010 Diamond Mountain District Cabernet Sauvignon at the Let's Get It Started party held at Vintage Estates in Yountville. There, Napa restauranteurs and vintners (such as ourselves) provided food and wine and a custom barrel auction, while the band Grooveline provided some very lively music for dancing.
On Saturday morning, cancer researchers from leading research centers discussed the latest advances in cancer diagnosis and treatment--so enlightening.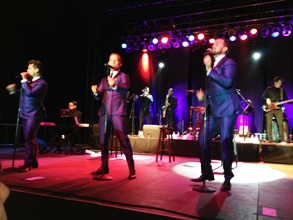 Topping this all off on Saturday night, we attended a fabulous gala at the Nichol and Nichol winery in Oakville, hosted by Scott Hamilton, Olympic Gold Medalist, World Figure Skating Champion and US Olympic Hall of Famer. Hamilton related how he was not only a testicular cancer survivor, but is now also finally recovered from a twice-diagnosed brain tumor. What valor! After a delicious dinner, live and silent auctions, at which Ed and I scored a week in Tuscany, we were treated to incredible entertainment by the Midtown Men of the original Broadway cast of the Jersey Boys, who really got the place rockin'! The night before we had poured our wine for the lead singer Christian at the Let's Get it Started party, so we felt like he was singing just for us.
Comments
Ann chriss
@ Jul 31, 2017 at 10:56 PM
Simply want to say your work is outstanding. The clarity in your post is simply excellent and i can assume you're an expert on this subject.. Thanks a million and please carry on the rewarding work. I think this is engaging and eye-opening material. Thank you so much for caring about your content and your readers.
https://globaldigitalcitizen.org/6-ways-improve-students-writing-skills
@ Oct 15, 2018 at 6:51 AM
Almost certainly, I am absolutely for mechanical preparing as this is incredibly compulsory for all countries to change desire for ordinary solaces of general society. Simply clear guidance can't get change the universe since, this is the season of science and development that is the reason, specific preparing should be propelled everywhere.
Commenting has been turned off.