May 1, 2017 | Irene Ojdana
San Francisco Food and Wine Society Luncheon
Ed and I recently spent a lovely Sunday afternoon on the Great Lawn in front of the historic carriage house of the Charles Krug winery. We were attending a luncheon hosted by the San Francisco Food and Wine Society, of which Ed is a member. Most of its events are only available to its male members, but I attended this one and others to which female guests are invited.
The Charles Krug Winery is the oldest winery in Napa Valley and was established in 1861 by Charles Krug. Its current owners and managers are Marc and Peter Mondavi, Jr., third generation, with five fourth generation children also involved in the business. Marc's daughter Alycia sat at our table, along with John Kehriotis, co-owner of the Sacramento Kings, and his family. Surprisingly, John knows our good friend Chris Kelly, also a co-owner of the Kings. Six degrees of separation!
During the reception, while sipping Krug Chardonnay and chatting with Katie Mondavi (Peter's wife), we witnessed a train (Napa Valley Wine Train) coming to a stop not very far from where we were standing, letting out folks heading to the Krug tasting room. And I thought only a river runs through it!
The delicious meal was paired with Krug wines. My favorite pairings were the steak main course with Charles Krug 1974 Cabernet Sauvignon. (See the photo of Ed and me holding the 3 liter bottle, signed by Peter, Sr., that we happily emptied out.) My second favorite pairing was the rich chocolate dessert paired with Lot XX Zinfandel Port. We just had to bring two bottles of that home with us.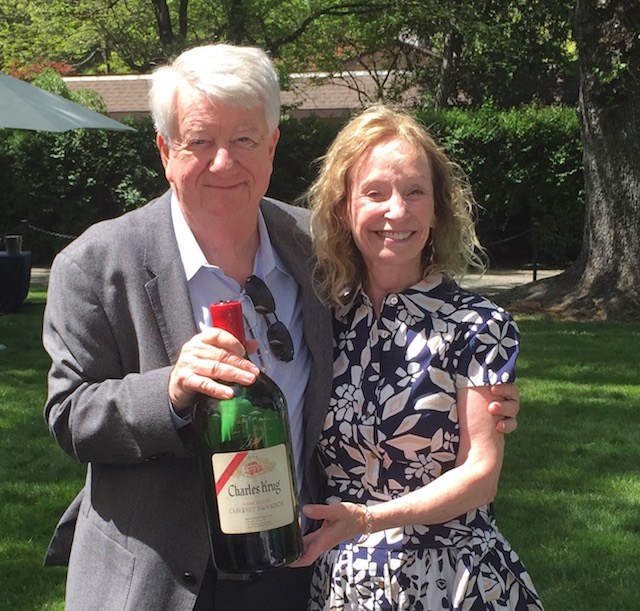 Comments
Commenting has been turned off.