March 12, 2016 | Irene Ojdana
Screening of "1916 The Irish Rebellion"
As a resu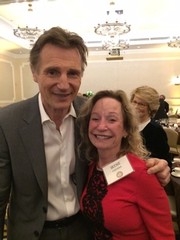 lt of the long-standing close relationship of the University of Notre Dame and of Ireland, Notre Dame developed a documentary, narrated by Liam Neeson, about the 1916 Irish Rebellion. Although the rebellion by a small group of Irish men and women against the British empire was unsuccessful, it eventually led to the successful Irish Revolution of a few years later and inspired revolutions against the British Empire throughout the world. The documentary creator and writer was Briona Nic Dhiarmada, the Thomas J. and Kathleen M. O'Donnell Professor of Irish Studies and Concurrent Professor of Film, Television, and Theater at the University.
Because Ed and I contributed to the financing of the film, we were invited to the screening at the University of Notre Dame, in South Bend, Indiana, on March 3. There we were lucky to have a few minutes to chat with the immensely talented Irish actor and Academy Award-nominee Liam Neeson. Through his and the University's commitment to the film project, the very interesting documentary 1916 The Irish Rebellion will shortly be screened in cities around the U.S., Ireland and Argentina, and on television stations thoughout the U.S.
Comments
Commenting has been turned off.