May 11, 2019 | Irene Ojdana
Tasting at Charles Krug
Ed and I were able to have a reunion with friends we had met while on safari in East Africa. As I mentioned in my previous blog, "Out of Africa," we were in a group of five people (including ourselves) in Africa, and we were surprised to learn that two of the five--Katherine Gard and Tom Furlong--were from the neighboring Napa Valley town of Yountville.
So the four of us caught up at a wine tasting I arranged for us at the Charles Krug winery with other friends of ours, owners Katie and Peter Mondavi.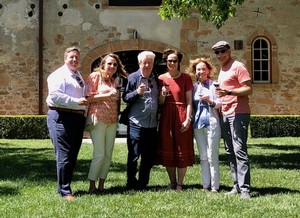 Tom, Elizabeth, Ed, Katie, Irene and Peter
The Mondavis put on a wonderful tasting, tour, and pizza lunch for us at the beautiful Charles Krug, the oldest winery in Napa Valley. The winery dates back to 1882, when Charles Krug opened it for public tastings. There we tasted some wonderful wines that included a 2016 Merlot, 2014 X Clones, 2015 Voltz, and 2015 Cold Springs.
Our tour included one of their huge barrel rooms, where we saw their "Big Red" immense, old oak barrel, which dates back to 1944.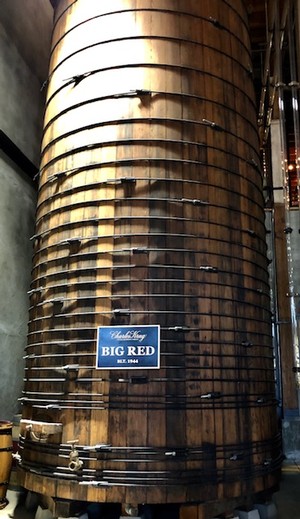 Now that's a barrel!
Comments
Commenting has been turned off.