August 18, 2013 | Napa Valley, Napa Valley Events, Napa Valley Film Festival | Irene Ojdana
V Foundation Fundraiser
Ed and I attended the V Foundation's 15th annual Wine Celebration August 1-3. The Foundation was founded by Jim Valvano and ESPN to raise money for cancer research. Valvano was the head coach of North Carolina State University's men's basketball team and led it to win the national championship in 1983; in his last days before dying of bone cancer in 1993, he asked that the Foundation be started to find a cure for cancer.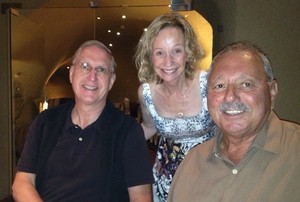 On the first night of the Wine Celebration, we attended a lovely dinner hosted by Ann and Chuck McMinn (left) at their wonderful winery Vineyard 29. I was lucky enough to sit next to Jim Valvano's brother Nick Valvano (right), President Emeritus of the V Foundation, who served as its CEO for 13 years (1999-2012), and who has been on its Board since its inception. Nick, also a former basketball player and coach, played guard.
We learned alot about Valvano's extraordinary spirit and remarkable impact that week , especially through the dinner and auction at the Nickel and Nickel Winery and through producer Dereck Wittenburg's and director Jonathan Hock's documentary, "Survive and Advance," which was screened at Yountville's Barrel Room by the Napa Valley Film Festival in conjuntion with the V Foundation.
The dinner/auction was hosted by Mike Krzyzewski ("Coach K"), head coach of Duke's men's basketball team. He, as well as Bob Lloyd, Chairman of the V Foundation and Valvano's longtime friend and teammate at Rutger's University, both emphasized the challenge we face in fighting cancer. Robin Roberts, Good Morning America co-host, who is battling cancer herself, addressed us through a video feed. The evening was topped off by a concert by Melissa Etheridge, rock singer and Grammy award winner.
Comments
Commenting has been turned off.