September 22, 2015 | Travel, Wine Tastings | Irene Ojdana
Willamette Valley Wine Tasting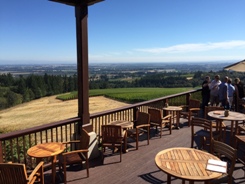 After Ed and I attended a wedding in the Mt. Hood area outside of Portland, we made a wine tasting tour of the Willamette Valley, mostly around the town of Newberg. Some of our favorite wines we discovered were Ken Wright Cellars 2012 Yamhill-Carlton District Pinot Noir; Dobbes Pinot Noir; Chehalem Pinot Noir and Chehalem Ian Chardonnay. This Chardonnay was all the more special since it has the name of our almost- three-year-old grandson Ian. We stayed at the lovely Allison Inn and Spa in Newberg.
We also managed to do some hiking and exploring in Oregon and got to see the beautiful Multnomah Falls when we weren't wine tasting--other healthy alternatives to red wine!
Comments
Commenting has been turned off.