April 7, 2014 | Napa Valley, Wine Tastings | Irene Ojdana
Wine Tasting at Spring Mountain Winery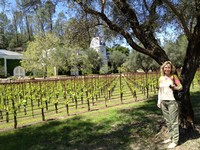 Ed and I and our good friends Charles and Kalani Engles were given a very special tour of Spring Mountain Vineyards, in St. Helena, by its general manager (our tennis buddy) George Peterson. We were amazed at the immense and beautiful grounds, underground caves dug over 100 years ago (by Chinese immigrants), and gorgeous Victorian mansion restored by owner Swiss investor Eli Safra. Before Safra bought Spring Mountain Vineyards, the mansion was used as the home in the TV series Falcon Crest. The vineyards are surrounded by olive trees and bluebird houses to keep the birds from eating the grapes.
We had a lovely winetasting overlooking the vineyards and particularly liked the 2005 and 2009 Elivette wine (named after the owner Eli and his wife Evette. We couldn't help but bring some of the Elivette home with us.
Comments
Commenting has been turned off.