June 20, 2014 | Travel, Wine Tastings | Irene Ojdana
Wine Tasting in Budapest
Ed and I very recently returned from a Danube River cruise, which started out in Budapest. There, we tasted the best wines of our whole trip (which surprisingly included Paris, which we visited after the cruise).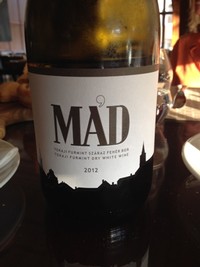 At the Four Seasons Hotel Gresham Palace, in Budapest, we had our personal favorite-- a dry white wine called MAD-- made from a grape varietal called furmint. Furmint is a grape varietal most famously associated with Hungary's famous, sweet Tokaji wines. The Tokaji region and its wine are held in such esteem in Hungary that the Hungarian national anthem thanks God that Tokaj szőlővesszein nektárt csepegtettél ('into the vineyards of Tokaj you dripped sweet nectar').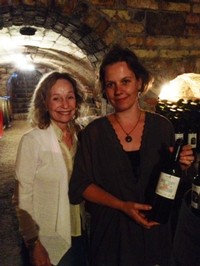 We also took a wine tasting tour of the Etyek wine region, just outside of Budapest. We visited three wineries: Hernyak Estate (Pinot Noir and Sauvignon Blanc); Zarandok Pince (Chardonnay, Pinot Gris); and Gyula Oroz (Pinot Noir and Chardonnay/Sauvignon Blanc); where we also had dinner. Our favorite from that area was a Pinot Gris called Bernadette, which we tasted in its cave. That's Bernadette and me in the photo.
After boarding our cruise, we arranged a wine tasting dinner with fellow cruisers/wine lovers, to which we contributed our very own 2010 Diamond Mountain Cabernet Sauvignon--everyone's favorite.
Comments
Commenting has been turned off.