From Hollywood to Vine with Vineyard {511}
Adventures in Wine, Food, Film and Travel
---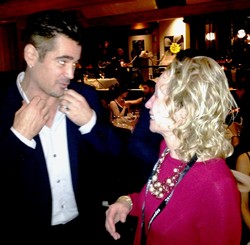 On November 15, Ed and I attended the Napa Valley Film Festival Celebrity Dinner at etoile restaurant, at Domanine and Chandon in Yountville, which proceded the Festival's Celebrity Tribute event at the Lincoln Theater, also in Yountville. We were lucky to sit next to the interesting and very approachable director of Saving Mr. Banks, John Lee Hancock. We so much enjoyed our conversation with him about his experiences making the film, which was about the making of another film: Mary Poppins.
We also were lucky enough to meet one of the stars of Saving Mr. Banks - - charming Irish actor Colin Farrell. (See photo.) I got to chat with him about his jewelry.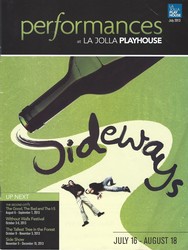 On July 21, 2013, Ed and I were lucky to be invited to the opening night of "Sideways," the play, at La Jolla Playhouse's Sheila and Hughes Potiker Theater. Our gracious hosts were Brenda and Marc Lhormer, the directors of the film "Bottle Shock," and the founders of the Napa Valley Film Festival.
We were totally surprised that the successful 2004 film "Sideways" was made into a hilarious play, which we thoroughly enjoyed. Rex Pickett, the playwright, who we met there, has rewritten his original novel "Sideways" into a play about what ensues when up-tight, wine-afficianato Miles (Patrick Breen), takes his buddy, womanizer Jack (Sean Allan Krill), on a week-long wine-tasting road trip through the Santa Inez Valley, a week before Jack's impending wedding. This stag party/wine tasting on wheels leads to their getting into trouble with the women they meet. I have a feeling that this terrifically funny play will be produced on Broadway.
The performance was preceded and followed by a delicious reception, where Jamieson Ranch poured its yummy chardonnay and pinot noir.

Bottle Rock Napa Valley and the Napa Valley Film festival teamed up to present two music documentaries: Sound City, at the Uptown Theater, on May 6, and Twenty Feet From Stardom, at 500 First Street (the former Copia facility), on May 7.
Sound City, directed by Nirvana/Foo Fighters musician Dave Grohl, was about the history of the legendary recording studio hidden away in Van Nuys, in the San Fernando Valley, near Los Angeles. Sound City Sudios was the birthplace of many of the greatest recordings in rock and roll history, and the film showcases Mick Fleetwood, Stevie Nicks, Tom Petty and Rick Springfield, among others, and shows how Grohl brings the Studio back to life in the digital age.
Hors d'ovres by Bouchon and wines by Miner were terrrific!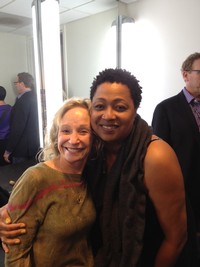 Twenty Feet From Stardom, directed by Morgan Neville, my personal favorite, was first screened at Sundance, where it received standing ovations, and was presented here as a special sneak preview before it opens theatrically in June. The film follows several diverse and gifted backup singers who, although immensely talented, perform in the shadows of star singers, such as Michael Jackson, Patti Austin, Pattie LaBelle, Stevie Wonder, Ray Charles and the Rolling Stones. We learn their names; Darlene Love, Merry Clayton, Lisa Fischer, Tata Vega and Judith Hill, who have sacrificed their egos to be a part of something bigger than themselves, backing up the star.
At the conclusion of the screening, Director Neville and Lisa Fisher answered questions from the audience, and then Lisa sang to an enrapt audience. Ed and I were lucky enough to meet Lisa personally backstage. What a lovely and gentle soul she is.

On April 8, The Napa Valley Film Festival (NVFF) added two new members to its Board of Trustees: David Glasser and Ed Ojdana.
Currently, David Glasser is Chief Operating Officer and President of International Sales and Distribution for the Weinstein Company, one of the most well-known and successful independent film studios in the world. As the COO of the Weinstein Company, he is responsible for the company's management and development of its growing portfolio of businesses, which include motion pictures, television, home entertainment, library and international film sales and distribution. David's connections and experience will help bring high caliber films to NVFF. Since its inception in 2010, David has brought these terrific Weinstein Company films to NVFF: The King's Speech, Blue Valentine, Butter, Undefeated, Quartet, The Sapphires, and Silver Linings Playbook.
Ed Ojdana brings to NVFF not only his business management and leadership skills, but also his increasing involvement in film. He recently retired as chief executive officer of Experian Interactive. He previously founded and ran ConsumerInfo.com (also known as FreeCreditReport.com.) On the film side, he was an executive producer on the film Rock Slyde, starring Patrick Warburton and Andy Dick, and on the award-winning documentary film Jiro Dreams of Sushi, which was acquired and distributed by Magnolia Pictures and which screened at the 2011 NVFF. Ed currently sits on several boards, which include GoDigital (Executive Chairman), Preferred VenturesLLC, and the UC Davis Department of Viticulture and Enology.
.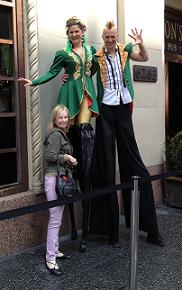 On Saint Patrick's Day, Ed and I navigated our way through all the street closures for the Los Angeles Marathon to see Catch Me If You Can--The Musical, at the Pantages Theater, in Hollywood, near the intersection of Hollywood and Vine. Needless to say, Hollywood was flooded with those wearing green – and green beer!
Catch Me If You Can – The Musical is an adaptation of the Dreamworks motion picture, starring Leonardo DiCaprio, as Frank Abagnale, Jr., the real life person on whom the film and musical, as well as the original book (by Abagnale with Stan Redding), was based.
The music, lyrics and dancing were all delightful. For those of you who didn't see the movie, the plot revolves around how a sixteen year old boy, Frank Abagnale, Jr., (played extremely well by the talented Steven Anthony), leaves home and makes it in the real world by impersonating an airline pilot, lawyer and doctor, forging checks and ID's, and charming the world. The print ad for the movie says it all: "If you wanna make it, make it up."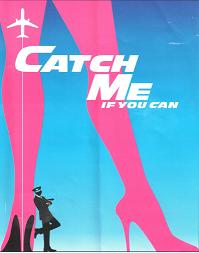 Eventually, when Abagnale is eighteen, the law catches up with him via a zealous FBI agent (played by Merritt David Janes in the musical and played by Tom Hanks in the film). Abagnale serves seven years in prison and then, amazingly, is hired by the FBI to help it fight fraud and embezzlement. Currently, Abagnale is one of the world's leading authorities on secure documents.
When Ed was CEO of Experian Interactive, we met Abagnale a couple of times as he is a world-renowned public speaker on the topics of check fraud, embezzlement and secure documents. Meeting him in person motivated us to see the musical. We weren't disappointed!