From Hollywood to Vine with Vineyard {511}
Adventures in Wine, Food, Film and Travel
---

On June 29, Ed and I were back to Hollywood and Vine, at the beautifully-restored art deco Pantages Theater, to see the terrific Ghost The Musical. This stage version was directed by Matthew Warchus, book and lyrics by Bruce Joel Rubin and music and lyrics by Dave Stewart and Glen Ballard. Bruce Joel Rubin adapted the play from his Oscar-winning screenplay Ghost (1990).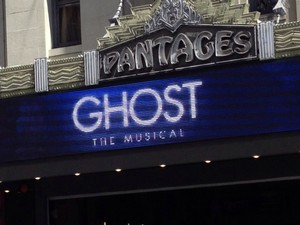 As you may remember, the plot of the film Ghost (can you believe it's been almost 25 years since it was first released?) revolves around lovers handsome banker Sam Wheat (played by Steven Grant Douglas--the late Patrick Swayze in the film) and sweet sculptor Molly Jensen (played by Katie Postotnik--Demi Moore in the film). Sam and Molly are attacked on the way back from her art show, and he dies and becomes a spirit caught between two worlds. Sam convinces the psychic Oda Mae Brown (played by Carla R. Stewart -- Whoopie Goldberg in the film--a part for which she won an Oscar) to warn Molly that her life is still in danger from their (so-called) friend, Sam's co-worker Carl Bruner (played by Robby Haltiwanger). Carl was responsible for Sam's death, as Carl hired someone to commit the attack to steal information from Sam to further a scam Carl has initiated.
The special effects and illusions created by Paul Kieve were amazing, and we were also not disappointed in the new portrayals by the actors, who had wonderful stage presence and marvelous voices; when Sam sang "Unchained Melody" to Molly, there wasn't a dry eye in the house.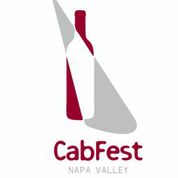 The first annual CabFest Napa Valley was held February 28- March 2, at the Napa Valley Performing Arts Center, at Lincoln Theater, in Yountville, and was a great success. Two thousand people attended. To start it off with a bang was actor, singer, songwriter Jeff Bridges and his band, the Abiders. He performed a blend of country, rock and blues and songs from the film "Crazy Heart," as well as from his albums, shaped in partnership with his producer and friend T Bone Burnett. Opening the show for her father was the very talented singer/songwriter Jessie Bridges. They both sang together at the fun after-party, Cigars and Guitars, hosted by "Cigar Aficionado Magazine," Gibson Guitars and Napa Valley Museum.
The next two days featured Grand Tastings of Cabernet Sauvigon poured by a terrific group of Napa Valley wineries--50 each day--such as Cakebread Cellars, Cade, Silverado Vineyards, Trefethen, Hess Collection, Reynolds Family, Eagle Eye, Pride, Caymus Vineyards, and Vineyard 511. Everyone came by to tell us that our Vineyard 511 2009 was the best there! We agree!
Local restauranteur Cindy Pawlcyn provided delicious cheese, nuts, olive tapenade and fruit to pair perfectly with all the delicious Cab. Additionally, there were interesting seminars on the main stage, such as the keynote presentation by Karen MacNeil, "What Makes Great Cabernet Sauvignon Great," and musical pairings presented by the Orchestra Institute Napa Valley, since both wine and music have a mysterious quality that does not lend itself to easy description in words.
Saturday night The Silverado Pickups, a rock band comprised of some of Napa Valley's most respected vintners and wine professionals provided a rockin' concert. Members of the band include David Duncan of Silver Oak and Twomey Cellars, Jeff Gargiulo of Gargiulo Vineyards, Shane Soldinger with Crocker & Starr, professional percussionist Joe Shotwell, Dan Zepponi of Valley of the Moon, winemaker Tres Goettings of Robert Biale Vineyards, and wine-country "C.P.A.. to the stars," Paul Hoffman.
We are really looking forward to next year's event! In the meantime, enjoy our 2014 Napa Valley CabFest Photo Album.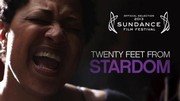 On March 2, the film Twenty Feet From Stardom, which the Napa Valley Film Festival screened in 2013, took home the Academy Award for the best 2013 documentary feature. The film, directed by Emmy award-winning Morgan Neville, tells the untold story of backup singers who have been behind some of the greatest musical legends of our time, such as Elton John, The Rolling Stones, Tina Turner, Sting, Beyonce, Alicia Keyes and Aretha Franklin. The film highlights the careers of backup singers Lisa Fischer, Darlene Love, Judith Hill, and Merry Clayton among others, who, like Darlene Love, either got beat up by an abusive music industry, or who, like Lisa Fischer, made a concerted decision not to seek stardom.
Immediately following the 2013 Napa Film Festival screening, we were lucky to have director Neville and Lisa Fischer for a Q&A session and then hear talented Ms. Fischer deliver a stunning impromptu a cappella performance. Check it out here. We also got to meet the delightful Lisa backstage. Actually, the nights right before and right after the screening, she was backing up the Rolling Stones, who were touring California.

Ed and I just returned from the Sundance Film Festival, in Park City, Utah. The festival, in its 30th year, screened 118 feature-length films from 37 different countries and 54 first-time filmmakers (from an incredible 12,218 submissions.) We saw some terrific films, like Camp Xray, Whiplash, A Most Wanted Man, Last Days in Vietnam (a documentary), I Origins, Song One, and War Story.

There were plenty of Hollywood A-listers making the rounds on Main Steet, like Anne Hathaway, Elizabeth Moss, and Robert de Niro. We were lucky enough to chat with the incredibly talented and beautiful star of War Story, Catherine Keener (see photo), at a dinner at Chef's Dance. Kevin Iwashina, who represents War Story, invited Ed and me to the dinner given for the cast and crew. In the film, directed by Mark Jackson and written by Mark Jackson and Kristin Gore, Keener plays a war photograher, who retreats to a small town in Sicily after being held captive during the conflict in Libya. We also met Kristin Gore, one of the writers and producers of the film and Al Gore's daughter.

We also had the pleasure of meeting American singer, songwriter and composer, Alex Ebert, who won the 2014 Golden Globes for his original score for the film All Is Lost (a gripping 2013 American survival film, starring Robert Redford and written and directed by JC Chandor). Unfortunately, Alex didn't get nominated for an Oscar for his score. What do they know?!? We met Alex (see photo) while taking a break from the films to watch the playoff game between the S.F. '49ers and the Seattle Seahawks. What a close game!
Someday, the Napa Valley Film Festival will be as successful as Sundance!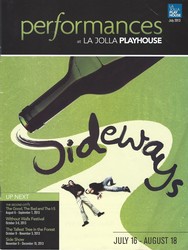 On July 21, 2013, Ed and I were lucky to be invited to the opening night of "Sideways," the play, at La Jolla Playhouse's Sheila and Hughes Potiker Theater. Our gracious hosts were Brenda and Marc Lhormer, the directors of the film "Bottle Shock," and the founders of the Napa Valley Film Festival.
We were totally surprised that the successful 2004 film "Sideways" was made into a hilarious play, which we thoroughly enjoyed. Rex Pickett, the playwright, who we met there, has rewritten his original novel "Sideways" into a play about what ensues when up-tight, wine-afficianato Miles (Patrick Breen), takes his buddy, womanizer Jack (Sean Allan Krill), on a week-long wine-tasting road trip through the Santa Inez Valley, a week before Jack's impending wedding. This stag party/wine tasting on wheels leads to their getting into trouble with the women they meet. I have a feeling that this terrifically funny play will be produced on Broadway.
The performance was preceded and followed by a delicious reception, where Jamieson Ranch poured its yummy chardonnay and pinot noir.

This past week, the Napa Valley Vintners' Association Auction Napa Valley raised a record $16.9 million for health care and youth education in Napa Valley. It broke its previous record of $10.5 million in 2005. In its 33rd year, the Auction provides for direct medical, dental and education services, lending support to families at risk, reaching the most vulnerable and extending a safety net to those in poverty.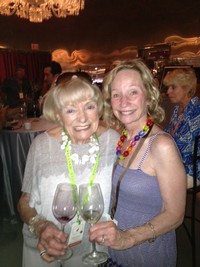 The top live auction lot netted $3.7 million for Fund-a-need; the top barrel lot, each of which is 10 cases of wine, was Shafer Vineyards at $78,000; the top e-auction lot was for Sherwin Family Vineyards at $15,200.
The barrel auction was held in the afternoon at the lovely Raymond Vineyards, where an overwhelming number of local chefs and vintners provided yummy food and white, rose and sparkling wine outside in 5 large tents; while inside the cave, vintners poured their barrel samples. After schmoozing with Magrit Mondavi and owner Jean-claude Boisset, we ended up bidding on a case of Jean-Claude's 2010 Raymond cabernet--and won it!!!
Outside we ogled a 2006 Astin Martin convertible and chatted with Launny Steffens, proprietor of Vineyard 7 & 8, who was donating the (James Bond '007) thunderbolt on wheels to be auctioned off. How could he give it up??? Although Ed has the '06 sedan, I would have liked this one for myself. Oh well..............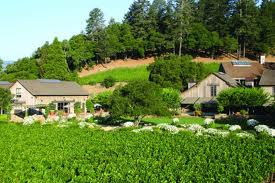 Ed and I attended a lovely reception and dinner, which was part of the third annual Volley in the Valley Tennis Tournament, at the Napa Valley Reserve. The Reserve is a private wine estate, where members can make wine without the hassles associated with making wine. Members can participate as much or as little as they like. With their membership fee and agreement to purchase a certain amount of wine, they can have terrific wine for their own personal use; they just can't sell it.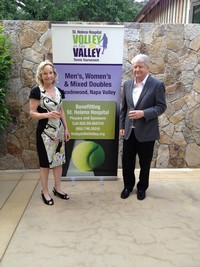 The tournament itself was held at Meadowood, in St. Helena, to raise money for the Adventist Heart Institute, which directly benefits St. Helena Hospital. The champagne reception was held in the Reserve's outdoor Pavilion Patio and the dinner in the Pavilion Dining Room. My favorite part of the dinner prepared by Estate Chef Alejandro Ayala was the lovely, light, "sweet" starter Sweet Pea Agnolotti, with pea tendrils, green garlic and lemon.
The highlight of the evening was the featured speakers: Dr. Gan Dinnington, Cardiothorasic Surgeon, St Helena Hospital; Peter Magowan, President and Managing General Partner, San Francisco Giants, 1993-2008; and Jeff Greenwald, MFT, and author of The Best Tennis of Your Life and Fearless Tennis. What I hope I will remember most from Greenwald is that, after missing a point in tennis (as in life) let the windshield wiper totally wipe it away and go on to the next point.

Bottle Rock Napa Valley and the Napa Valley Film festival teamed up to present two music documentaries: Sound City, at the Uptown Theater, on May 6, and Twenty Feet From Stardom, at 500 First Street (the former Copia facility), on May 7.
Sound City, directed by Nirvana/Foo Fighters musician Dave Grohl, was about the history of the legendary recording studio hidden away in Van Nuys, in the San Fernando Valley, near Los Angeles. Sound City Sudios was the birthplace of many of the greatest recordings in rock and roll history, and the film showcases Mick Fleetwood, Stevie Nicks, Tom Petty and Rick Springfield, among others, and shows how Grohl brings the Studio back to life in the digital age.
Hors d'ovres by Bouchon and wines by Miner were terrrific!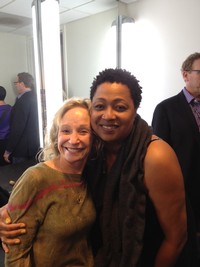 Twenty Feet From Stardom, directed by Morgan Neville, my personal favorite, was first screened at Sundance, where it received standing ovations, and was presented here as a special sneak preview before it opens theatrically in June. The film follows several diverse and gifted backup singers who, although immensely talented, perform in the shadows of star singers, such as Michael Jackson, Patti Austin, Pattie LaBelle, Stevie Wonder, Ray Charles and the Rolling Stones. We learn their names; Darlene Love, Merry Clayton, Lisa Fischer, Tata Vega and Judith Hill, who have sacrificed their egos to be a part of something bigger than themselves, backing up the star.
At the conclusion of the screening, Director Neville and Lisa Fisher answered questions from the audience, and then Lisa sang to an enrapt audience. Ed and I were lucky enough to meet Lisa personally backstage. What a lovely and gentle soul she is.

On April 8, The Napa Valley Film Festival (NVFF) added two new members to its Board of Trustees: David Glasser and Ed Ojdana.
Currently, David Glasser is Chief Operating Officer and President of International Sales and Distribution for the Weinstein Company, one of the most well-known and successful independent film studios in the world. As the COO of the Weinstein Company, he is responsible for the company's management and development of its growing portfolio of businesses, which include motion pictures, television, home entertainment, library and international film sales and distribution. David's connections and experience will help bring high caliber films to NVFF. Since its inception in 2010, David has brought these terrific Weinstein Company films to NVFF: The King's Speech, Blue Valentine, Butter, Undefeated, Quartet, The Sapphires, and Silver Linings Playbook.
Ed Ojdana brings to NVFF not only his business management and leadership skills, but also his increasing involvement in film. He recently retired as chief executive officer of Experian Interactive. He previously founded and ran ConsumerInfo.com (also known as FreeCreditReport.com.) On the film side, he was an executive producer on the film Rock Slyde, starring Patrick Warburton and Andy Dick, and on the award-winning documentary film Jiro Dreams of Sushi, which was acquired and distributed by Magnolia Pictures and which screened at the 2011 NVFF. Ed currently sits on several boards, which include GoDigital (Executive Chairman), Preferred VenturesLLC, and the UC Davis Department of Viticulture and Enology.
.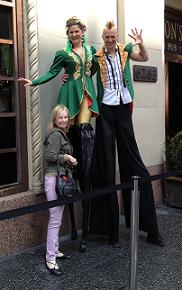 On Saint Patrick's Day, Ed and I navigated our way through all the street closures for the Los Angeles Marathon to see Catch Me If You Can--The Musical, at the Pantages Theater, in Hollywood, near the intersection of Hollywood and Vine. Needless to say, Hollywood was flooded with those wearing green – and green beer!
Catch Me If You Can – The Musical is an adaptation of the Dreamworks motion picture, starring Leonardo DiCaprio, as Frank Abagnale, Jr., the real life person on whom the film and musical, as well as the original book (by Abagnale with Stan Redding), was based.
The music, lyrics and dancing were all delightful. For those of you who didn't see the movie, the plot revolves around how a sixteen year old boy, Frank Abagnale, Jr., (played extremely well by the talented Steven Anthony), leaves home and makes it in the real world by impersonating an airline pilot, lawyer and doctor, forging checks and ID's, and charming the world. The print ad for the movie says it all: "If you wanna make it, make it up."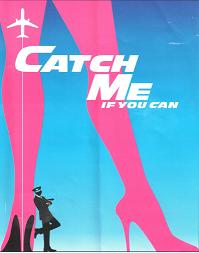 Eventually, when Abagnale is eighteen, the law catches up with him via a zealous FBI agent (played by Merritt David Janes in the musical and played by Tom Hanks in the film). Abagnale serves seven years in prison and then, amazingly, is hired by the FBI to help it fight fraud and embezzlement. Currently, Abagnale is one of the world's leading authorities on secure documents.
When Ed was CEO of Experian Interactive, we met Abagnale a couple of times as he is a world-renowned public speaker on the topics of check fraud, embezzlement and secure documents. Meeting him in person motivated us to see the musical. We weren't disappointed!